Background
Fracking:
Gas Drilling Background and History
---
Barnett Shale
, , Wikipedia, (2010)
The Barnett Shale and Marcellus Shale have similar geological properties.
The Barnett Shale is known as a "tight" gas reservoir, indicating that the gas is not easily extracted. The shale is very hard, and it was virtually impossible to produce gas in commercial quantities from this formation until recent improvements were made in hydraulic fracturing technology and horizontal drilling, and there was an upturn in the natural gas price.
Future development of the field will be hampered in part by the fact that major portions of the field are in urban areas, including the rapidly growing Dallas-Fort Worth Metroplex.
Some local governments are researching means by which they can drill on existing public land (e.g., parks) without disrupting other activities so they may obtain royalties on any minerals found, whereas others are seeking compensation from drilling companies for damage to roads caused by overweight vehicles (many of the roads are rural and not designed for use by heavy equipment). In addition, drilling and exploration have generated significant controversy.
See the Notes and External Links on this Ft. Worth, Texas Shale deposit using fracking since 2005.
Also see Sharon Wilson, Bluedaze Blog.
Please note that information taken from Wikipedia should be verified using other, more reliable sources. It is a good place to start research, but because anyone can edit Wikipedia, we do not recommend using it in research papers or to obtain highly reliable information.
Barnett Shale: An Aerial View
, , YouTube, (2009)
See the true cost of gas!
Natural gas is just another dirty fossil fuel. for more info see: Bluedaze
A [Barnett Shale] drilling rig operating for 3 months has the same impact as a city of 4,000 people—water use, solid waste generation, air emissions and traffic.
~David Burnett, Dir. Global Petroleum Research Institute
Before/After Drilling
, , YouTube, (2008)
Digital landscape of the pristine Upper Delaware Watershed - before and after gas drilling.
A slow quiet simulated time lapse on what can happen to the scenic Delaware watershed as gas drilling proceeds in Pennsylvania.
Bushwhacked : Life in George W. Bush's America
, , New York, (2003)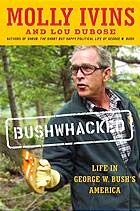 Molly Ivins has written about how the EPA was virtually dismantled as the Bush-Cheney administration handed over the role of oil and gas regulation to the oil and gas industry. While Governor of Texas, Bush allowed Texas industry to voluntarily comply with Federal Clean Air Regulations. Of the hundreds of Texas companies that might have volunteered, according to Ivins, only three did.
Bushwhacked by Molly ivins offers a critique of the presidency of George W. Bush, describing how the same flawed policies he used to govern Texas have affected health and safety standards, the economy, and the environment.
Paul Krugman. Strictly Business. Bushwhacked: Life in George W. Bush's America Book Review. The New York Review of Books. November 20, 2003.
Chapter 9 of Bushwhacked, by Molly Ivins and Lou Dubose, entitled "Dick, Dubya, and Wyoming Methane," tells you all you need to know about the Bush Interior Department.
We learn, in particular, that J. Steven Griles, the deputy secretary—and probably the real power in the department—has spent his career shuttling back and forth between being a government official and lobbying for the extractive industries.
And he has never worried much about ethical niceties—little things like recusing himself from decisions that affect his former clients. Moreover, Griles isn't likely to be disciplined, even when he brazenly supports industry interests over the judgments of government experts.
After all, just about every other senior official at Interior, including Secretary Gale Norton, has a similar résumé. So it's a very good bet that the new rules on mining-waste disposal don't reflect a careful economic analysis of the pros and cons.
See: Ed Swartz: The Grass Isn't Growing
See: Stripping the West, a NOW Converstion with Bill Moyers.
See C-Span Book TV Oct. 2, 2004. Bushwacked: Life in George W. Bush's America. Read Chapter: "Dick, Dubya, and Wyoming Methane." (152)
See: U.S. Environmental Protection Agency (EPA): Hydraulic Fracturing Study (2010-2012)
See: In Pursuit of Sustainability
Center for Dark Energy Biosphere Investigations (C-DEBI)
, , Center for Dark Energy Biosphere Investigations (C-DEBI), (2010)

Our mission is to explore life beneath the seafloor and make transformative discoveries that advance science, benefit society, and inspire people of all ages and origins.
In a provocative 1992 essay, Thomas Gold postulated the existence of a "deep, hot biosphere", supported by geological energy sources. The potential for the oceanic deep biosphere to influence global biogeochemical processes scales with the size of the subseafloor as a habitat.
See: Probe Earth's Interior with Advanced Radiation Sources
The ramifications of a massive buried biosphere of "intraterrestrial microbes" are significant, leading to paradigm shifts in our thinking in the biosciences and geosciences.
"Despite an intense focus on discovering abiotic hydrocarbon sources in natural settings, only a handful of sites convincingly suggest that abiotic organic synthesis occurs within the geosphere...
...The crux of this topic is that currently there is no foolproof approach to distinguishing abiotic versus biotic organic synthesis. Thus, it is especially important to be cognizant of the possibilities and limitations of abiotic hydrocarbon production when considering a deep subsurface biosphere where the organic matter may be synthesized by both abiotic and biotic processes." (Proskurowski, 2010)
See: Life in the Oceans | The Why Files.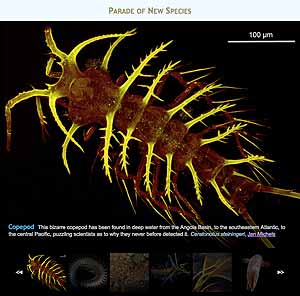 See: The Sloan - Deep Carbon Observatory (DCO)

The Deep Carbon Observatory is a program of the Carnegie Institution for Science, Alfred P. Sloan Foundation, and the Carnegie Institution of Washington.
The Sloan - DCO mission includes the fostering of international cooperation in addressing global-scale questions, including the nature and extent of deep microbial life, the fluxes of carbon dioxide from the world's volcanoes, and the distribution and characteristics of deep hydrocarbon reservoirs.
The DCO is currently composed of four science directorates: Deep Life; Reservoirs and Fluxes; Energy, Environment, and Climate; and Physics and Chemistry of Carbon.
Goncharov, Alexander. "Unanswered Questions in Deep Carbon Research" presented at the 2009 Annual Meeting keynote | Sloan Deep Carbon Cycle Workshop, Carnegie Institution, Geophysical Laboratory | Washington, D.C., May 15, 2008. (PDF 4.4 MB)
Proskurowski, G. "Abiogenic Hydrocarbon Production at the Geosphere-Biosphere Interface via Serpentinization Reactions" in Timmis, Kenneth N., ed. Handbook of Hydrocarbon and Lipid Microbiology. Berlin, Heidelberg: Springer, 2010.
Congress Launches Investigation Into Gas Drilling Practices
, , ProPublica, (2010)

Rep. Henry A. Waxman, D-Calif.
"Two of the largest companies involved in natural gas drilling have acknowledged pumping hundreds of thousands of gallons of diesel-based fluids into the ground in the process of hydraulic fracturing, raising further concerns that existing state and federal regulations don't adequately protect drinking water from drilling."
Source: Energy and Commerce Committee Investigates Potential Impacts of Hydraulic Fracturing
Cornell Cooperative Extension (CCE): Landowner Information
, , Cornell Cooperative Extension (CCE), (2010)

Cornell University Cooperative Extension. Landowner Information. Links to Landowner Coalitions, Key Points for Property Owners, Gas Rights and Right-of-Way Leasing Considerations for Farms. Woodlands, and more.
See also: Cornell Cooperative Extension (CCE): Natural Gas Resource Center
DamascusCitizens.org
, , DamascusCitizens.org, (2010)

Damascus Citizens for Sustainability is a grassroots group in Damascus, PA. located within the Upper Delaware Basin Watershed.
Site includes excellent links to petition sites, working activist organizations, experts, environmental lawyers, blogs, photographs, and primary documents inlcuding transcripts to testimonials covering the brief history of gas drilling in the U.S.
See: Hearing Set to Shut Down Well Drilling in [Delaware River Basin] Watershed. January 19-26, 2011.
UPDATE: Damascus Citizens. December 16, 2010. e-mail correspondence.
Last week the gas industry withdrew from an important
hearing intended to challenge 14 "test wells" within
the Upper Delaware Watershed region.
The industry withdrew its multiple challenges to our
assertions of the inherent dangers to public health
posed by their drilling activities. At this time we
are reviewing our legal options...
Delaware RiverKeeper Network (DRN), Damascus Citizens for Sustainability (DCS) and Nockamixon Township are co-appellants in Consolidated Administrative Hearings before the Delaware River Basin Commission.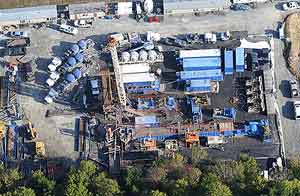 Drilling Around the Law: Drinking Water Threatened by Toxic Natural Gas and Oil Drilling Chemicals
, , (2009)

Dusty Horwitt. (2009). "Drilling Around the Law Report." Environmental Working Group. 24 pages.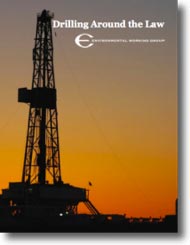 Contains extensive bibliography.
Companies that drill for natural gas and oil are skirting federal law and injecting toxic petroleum distillates into thousands of wells, threatening drinking water supplies from Pennsylvania to Wyoming. Federal and state regulators, meanwhile, largely look the other way.
--The mission of the Environmental Working Group (EWG) is to use the power of public information to protect public health and the environment. EWG is a 501(c)(3) non-profit organization, founded in 1993 by Ken Cook and Richard Wiles. Includes the EWG Action Fund, a 501(c)(4) organization that advocates on Capitol Hill for health-protective and subsidy-shifting policies.