Cornell 2011 Energy Conference
Publication Type:
Video Recording
Source:
Ithaca, NY (2011)
URL:
http://www.youtube.com/watch?v=Zwu3u1_dtK0
Keywords:
legal
Notes:
I attended the Energy Conference 3/31 - 4/2/2011.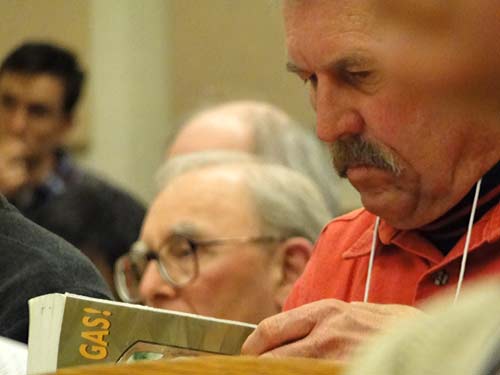 Getting serious about natural gas at the 2011 Cornell Energy Conference.
Photo by Neil Zusman.
See: Cornell University Law School - 2011 Energy Conference
First posted the photographs on 4/8 and liked how it played against Dylan and the Dead (1989) "All Along the Watchtower", but copyrights... I couldn't use Dylan and the Dead on YouTube- rock it Google.
But now I think the ballads about John Henry resonate for me - the classic man against machine tale, and I think that this conference was about that and more (mechanical, chemical). It needs a ballad. Sort of like the one about digging a tunnel for the railroad...but more about the one in progress, digging for the truth. The music is from the great Anthology of American Music. Vol. 2. (Neil Zusman, 2011-04-19).
"John Hardy" stands right next to "John Henry" as one of the most popular "figures" in the folk song tradition. (In the Anthology too, they are next to each other). In fact, many people combined the two songs and many scholars confused the two characters as Alan Lomax once said. Both were black railroad workers but their story is quite different.
The historical John Hardy killed a man during a crap game and was hanged for his crime. Before his execution he wanted to make peace with God so they sent a preacher and went to the river to baptise him. On the scaffold he claimed his repentance for his crime and probably sang some verses that would be included in the ballad that bore his name.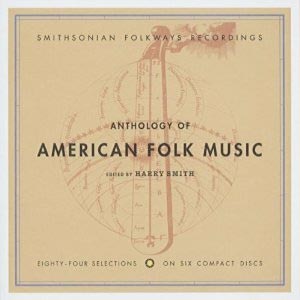 Harry Smith, ed. Anthology of American Music. Vol. 2. Smithsonian Folkways Recordings. 1997. "The Williamson Brothers & Curry: Gonna Die With My Hammer in My Hand".; "The Carter Family: John Hardy Was a Desperate Little Man."
Steel-drivin' men like John Henry used large hammers and stakes to pound holes into the rock, which were then filled with explosives that would blast a cavity deeper and deeper into the mountain. In the folk ballads, the central event took place under such conditions.
Eager to reduce costs and speed up progress, some tunnel engineers were using steam drills to power their way into the rock. According to some accounts, on hearing of the machine, John Henry challenged the steam drill to a contest. He won, but died of exhaustion, his life cut short by his own superhuman effort.
Carlene Hempel, Deb Procopio, Dan Shaver, Beth Novak. John Henry The Steel Driving Man. Electronic Resource. Accessed 2011-04-19.
Discover this great Anthology of American Folk Music by Harry Smith here and an even more amazing resource exploring it: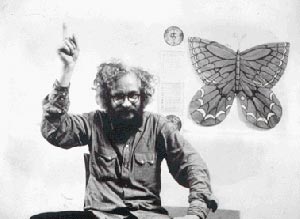 Gadaya. The Old Weird America. "Gonna Die with a Hammer in my Hand." Electronic Resource. Accessed 2011-04-19.
See: Congress Launches Investigation Into Gas Drilling Practices