Drilling Around the Law: Drinking Water Threatened by Toxic Natural Gas and Oil Drilling Chemicals
Publication Type:
Report
Source:
Environmental Working Group (2009)
URL:
http://www.ewg.org/drillingaroundthelaw
Keywords:
background
Notes:

Dusty Horwitt. (2009). "Drilling Around the Law Report." Environmental Working Group. 24 pages.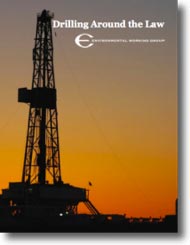 Contains extensive bibliography.
Companies that drill for natural gas and oil are skirting federal law and injecting toxic petroleum distillates into thousands of wells, threatening drinking water supplies from Pennsylvania to Wyoming. Federal and state regulators, meanwhile, largely look the other way.
--The mission of the Environmental Working Group (EWG) is to use the power of public information to protect public health and the environment. EWG is a 501(c)(3) non-profit organization, founded in 1993 by Ken Cook and Richard Wiles. Includes the EWG Action Fund, a 501(c)(4) organization that advocates on Capitol Hill for health-protective and subsidy-shifting policies.