Government
Fracking: Government Regulations, Legislation, Politics and Information
---
Freedom of Information in the USA
, , IRE (Investigative Reporters and Editors) Journal, (2002)

Here's why they did the survey.
There are probably no more important reforms to government than the ones that came with the passing of the Federal Freedom of Information ("FOI") Act. The law recognized in no uncertain terms that if government is to be of the people, by the people and for the people, the decisions and actions of the government must be open for review by the people.
The states, for the most part, followed the federal government in adopting open records laws.
Unfortunately, state FOI laws have proven to be almost uniformly weak and easy to undermine. The weakness and haphazard construction of the state laws has resulted in an information gap that significantly effects the citizenry's ability to examine even the most fundamental actions of government.
In the course of numerous investigations, Better Government Association investigators have been refused in our requests to review state contracts and performance measures, denied everything from documentation of ambulance response times to the documents reviewed when making budgeting decisions, and ignored by officials in nearly every major office at one time or another. Our experience told us that the FOI laws simply do not work very well in Illinois.
As a result of our hands-on experience with Illinois' lack of responsiveness, the BGA decided to find out where we stood in relationship to other states. We found that no one had completed any sort of national analysis of FOI laws, and that Illinois' relative strengths and weaknesses could not be measured without creating a new instrument to study the problem and without an analysis of each state's statutory provisions for FOI.

I was looking for the original article and ran this search on Google Scholar.
Staff: Terrance A. Norton, James M. Newcomb & Jay E. Stewart
Interns: Erika Washington and David Hall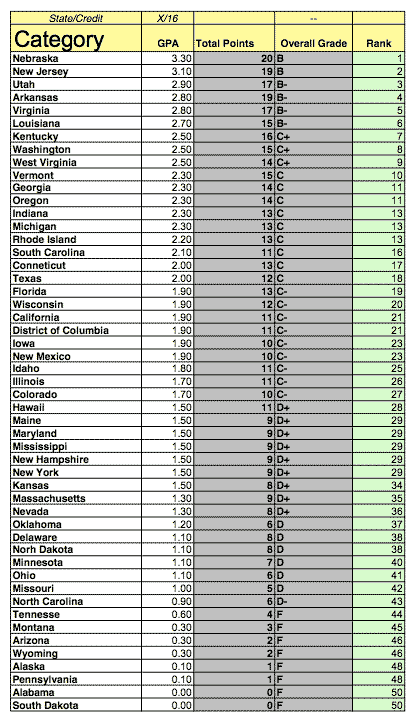 Alabama, Alaska, Arizona, Pennyslvania, Montana, South Dakota, Tennessee, and Wyoming all got a bit fat F.
Fueling Washington
, , OpenSecrets.org, (2010)


The Center for Responsive Politics today launches "Fueling Washington," a week-long series of reports exploring the oil and gas industry's evermore intimate relationship with the federal government and the people elected to make the nation's laws.
With a president promising comprehensive climate change legislation and a massive oil spill in the Gulf of Mexico, the fossil fuels industry has dominated political discourse this year in ways it never before has.
And such debate comes at a time when the most interested of parties -- environmentalists, alternative energy producers, the oil and gas industry itself -- are pouring record amounts of money into national politics in an attempt to bend rules, regulations and politicians their way.
Using the tools of our "Fueling Washington" series, you can investigate the tide of influential cash from these deep-pocketed -- and sometimes not so deep-pocketed -- special interest groups. Below, we specifically highlight contributions and lobbying of three special interests with significant stakes in Congress' post-oil spill debates about climate change, greenhouse gas emissions, energy policy and jobs.
Celebrating our 25th anniversary in 2008, the Center for Responsive Politics is the nation's premier research group tracking money in U.S. politics and its effect on elections and public policy.
Nonpartisan, independent and nonprofit, the organization aims to create a more educated voter, an involved citizenry and a more transparent and responsive government.
Global Warming Frequently Asked Questions
, , Global Warming Frequently Asked Questions, (2010)

David Easterling, NOAA Satellite and Information Services: National Environmental Satellite, Data, and Information Service. (2008). One of the most vigorously debated topics on Earth is the issue of climate change, and the National Environmental Satellite, Data, and Information Service (NESDIS) data centers are central to answering some of the most pressing global change questions that remain unresolved. The National Climatic Data Center contains the instrumental and paleoclimatic records that can precisely define the nature of climatic fluctuations at time scales of a century and longer.
Internationally, the Intergovernmental Panel on Climate Change (IPCC), under the auspices of the United Nations (UN), World Meteorological Organization (WMO), and the United Nations Environment Program (UNEP), is the most senior and authoritative body providing scientific advice to global policy makers. The IPCC met in full session in 1990, 1995, 2001 and in 2007. They address issues such as the buildup of greenhouse gases, evidence, attribution, and prediction of climate change, impacts of climate change, and policy options.
See: Global Warming | The Pew Center on Global Climate Change.
See: Tales from the Ice: Explaining Rapid Climate Change
See: Exxon Confronts Nuns, Calpers Over Global Warming Plans, Boskin
See: Climate Zombies Now Run The House
See: Beware The Green Dragon! | Right Wing Watch
See: Sixty Lame Minutes
See: U.S. Greenhouse Gas Inventory Report (2010 Draft) | Climate Change - Greenhouse Gas Emissions | U.S. EPA
GOP Budget Amendments Would Destroy Health, Economy, Planet
, , The Wonk Room, (2011)

Of the over 400 amendments offered on the House government-funding measure, the 2011 Continuing Resolution (H.R. 1), dozens are focused on climate change, energy policy, and environmental protection. The existing language in the budget bill is already designed to deny global warming, slash and burn public health and green jobs, but the amendments would take even more radical steps to reward polluters who are killing our children's future. Republican amendments, if fully enacted, would:
– Eliminate the White House Council on Environmental Quality, the Special Envoy for Climate Change, the Assistant to the President for Energy and Climate Change, the NOAA Climate Service, the Department of Energy's ARPA-E, National Science Foundation K-12 funding
– Block US funding for the Intergovernmental Panel on Climate Change and the Global Environment Facility
– Suspend enforcement of fisheries laws and construction and conservation acquisition programs of the National Parks and Department of the Interior
– Block rules for cement plant pollution, coal ash, industrial boiler pollution, water quality, climate change pollution, climate change adaptation, energy-efficient lighting, mountaintop removal, atrazine, and water conservation.
"Most of these amendments are budget neutral, not lowering the deficit one cent. Several defund extremely effective jobs programs that cost only a few million dollars. The goal of these amendments is not fiscal responsibility or jobs creation, but polluter protection, even though the pollution is poisoning babies, causing the elderly to suffer, and destroying America's natural bounty.
Max Shelby | Vincent Alabama said, find how your representative voted and give 'em hell!
These were revenue-neutral amendments, meaning they weren't aimed at reducing the federal budget deficit, but were designed solely to prevent the EPA and other government agencies from updating and enforcing clean air and clean water laws. In short, it was Christmas for polluters.

GovTrack.us: Tracking the U.S. Congress
, , (2011)

Joshua Tauberer is the "grandfather" of the open-data movement for the U.S. Congress and a "data crusader". 
GovTrack.us, launched in 2004, was the first website to apply the principles of open data and Web 2.0 to the U.S. Congress. It catalyzed the development of a community of like-minded developers and shaped the data-oriented open government movement that we see today.
See: Marshall Kirkpatrick.  "Data Hacker Pageranks Members of the US Congress." ReadWriteWeb. Dec. 27, 2010.
See: Dirty Energy Money.
See: Budget Proposals Follow Energy Influence: Obama Goes After Producers, Sen. Paul Goes After Regulators | MAPLight.org - Money and Politics
Graham Pulls Support for Major Senate Climate Bill
, , The New York Times, (2010)

In a move that may derail a comprehensive climate change and energy bill in the Senate, one of the measure's central architects, Senator Lindsey Graham, has issued an angry protest over what he says are Democratic plans to give priority to a debate over immigration policy.
Mr. Graham, Republican of South Carolina, said in a sharply worded letter on Saturday that he would no longer participate in negotiations on the energy bill, throwing its already cloudy prospects deeper into doubt. He had been working for months with Senators John Kerry, Democrat of Massachusetts, and Joseph I. Lieberman, independent of Connecticut, on the a legislation, which they were scheduled to announce with considerable fanfare on Monday morning. That announcement has been indefinitely postponed.
In his letter to his two colleagues, Mr. Graham said that he was troubled by reports that the Senate Democratic leader, Harry Reid of Nevada, and the White House were planning to take up an immigration measure before the energy bill. Mr. Graham has worked with Democrats in the past on immigration matters and was expected to be an important bridge to Republicans on that issue, as well as on energy.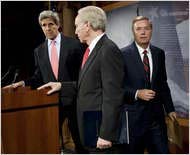 Brendan Smialowski for The New York Times
Senator Lindsey Graham, right, with Senators John Kerry and Joseph I. Lieberman at a news conference in November about proposed energy legislation. Mr. Graham sent his two colleagues a letter Saturday saying he would no longer participate in negotiations on the bill.
House committee votes to deny climate change
, , Grist, (2011)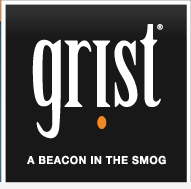 Today, Republicans in the House energy committee voted not once, not twice, but three times [all PDFs], against amendments recognizing that climate change is real, despite the broad scientific consensus that "climate change is happening and human beings are a major reason for it." They then unanimously voted [PDF] in favor of the Upton-Inhofe bill to repeal the EPA's scientific endangerment finding on greenhouse pollution.
The 31 Republicans and three Democrats who voted in favor of H.R. 910 have received a grand total of $343,750 from Koch Industries, an average of more than $10,000 each. Freshman Mike Pompeo (R-Kan.), Koch's special man in Congress, tips the scales at $79,500.
But today's vote is not the first time the Commitee From Koch went public on their science denial.
[Following is] a survey of the members of the committee, fueled by support from Koch Industries and other polluters, and their proclaimed opposition to climate science and climate scientists...
See for yourself. Chairman Upton, Rep. Barton, Rep. Waxman, et al. "Full Committee Markup on "H.R. 910" and "H.J. Res. 37" (Continued)". YouTube. (Running Time - 4:56:37).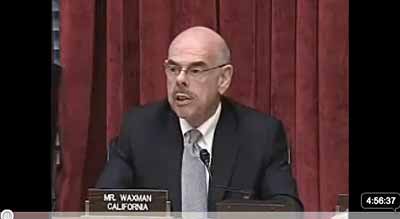 See: Comments from Committe on Energy and Commerce Democrats:
Letter in Opposition from Scientists: "The EPA must be allowed to fulfill its responsibilities and take action to regulate global warming emissions under the Clean Air Act. This science-based law has prevented 400,000 premature deaths and hundreds of millions of cases of respiratory and cardiovascular disease during the 40 years since it was first passed5—all without diminishing economic growth."
Letter in Opposition from National Academy of Sciences: "We are deeply disturbed by the recent escalation of political assaults on scientists in general and on climate scientists in particular. All citizens should understand some basic scientific facts."
Letter in Opposition from Former Senior Military Officers: "America's dependence on oil constitutes a clear and present danger to the security and welfare of the United States. As former senior military officers, we are concerned about Congressional efforts to undermine the Environmental Protection Agency's regulatory authority that is critical to reducing our dependence on oil."
Letter in Opposition from Health and Medical Professionals: "Please fulfill the promise of clean, healthy air for all Americans to breathe. Support full implementation of the Clean Air Act and resist any efforts to weaken, delay or block progress toward a healthier future for all Americans."
Letter in Opposition from the American Public Health Association: "Cimate change is a public health issue and is one of the greatest threats to human health. Scientists from across the globe have stated in the strongest possible terms that the climate is changing and that human activity is to blame."
Letter in Opposition from Organizations: "This reckless legislation puts America's health, prosperity, and national security at risk by gutting the Clean Air Act, overturning a decision of the Supreme Court, and dismantling the Environmental Protection Agency's ability to address life-threatening carbon dioxide and other pollution."
Letter in Opposition from Health Organizations: "This legislation would block the EPA from setting sensible safeguards to protect public health from the effects of air pollution."
Letter in Opposition from the American Lung Association: "A recent bipartisan survey... indicates the overwhelming view of voters: 69 percent think the EPA should update Clean Air Act standards with stricter limits on air pollution; 64 percent feel that Congress should not stop the EPA from updating carbon dioxide emission standards; 69 percent believe that EPA scientists, rather than Congress, should set pollution standards."
See: Broder, John M. 2011. House Panel Votes to Strip E.P.A. of Power to Regulate Greenhouse Gases. The New York Times, March 10, sec. Science / Environment.
See: Reeve, Elspeth. 2011. House Energy Panel Curbs Federal Power to Fight Climate Change - Politics - The Atlantic Wire. The Atlantic Wire. March 16.
See: EPA chief faces hostile House GOP
See: Smackdown: climate science vs. climate economics.
See: Climate Co-benefits and Child Mortality Wedges.
See: Snubbing Skeptics Threatens to Intensify Climate War,
See: Climate Zombies Now Run The House.
See: GOP Budget Amendments Would Destroy Health, Economy, Planet
See: EPA chief faces hostile House GOP
See: Energy & Commerce Committee Investigates Potential Impacts of Hydraulic Fracturing
For one of the more articulate conservative bloggers viewpoints on climate change and its' hermeneutics, read Alberta, Canada's Kevin Libin at ClimateRealists and The National Post.
See: Libin, Kevin. 2011. "Kevin Libin: Environmental activists hide behind a screen of U.S. money." National Post.
For an embarassing account of the dangers of environmentalism, see: Beware The Green Dragon! | Right Wing Watch.
Keystone XL Pipeline - Issues
, , U.S. Senator Mike Johanns for the State of Nebraska, (2010)

Our country's need for energy is a top priority and oil is among the energy sources that will help us meet this need. An oil pipeline, known as the Keystone XL Pipeline, has been proposed by TransCanada Corporation to deliver oil from its source in Canada through Nebraska to refineries in Oklahoma and Texas.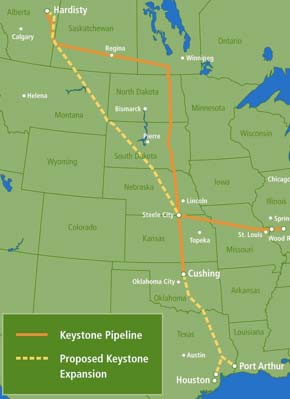 This pipeline has the potential to help our country meet our critical need for energy. However, I am concerned that the Federal review of the proposed pipeline has been inadequate, particularly in regard to the protection of the Ogallala Aquifer.
As your U.S. Senator, it is my duty to review federal actions that might impact resources critical to the State of Nebraska. I have repeatedly raised my concerns with federal regulators to urge the involvement of the correct agencies and experts in the permit review. We must ensure that regulatory actions related to this application safeguard the irreplaceable natural resource of the Ogallala Aquifer. During a Congressional hearing about pipeline safety, I asked numerous questions about the involvement of Federal pipeline experts in the review of this application. I also outlined my concerns about a potential lack of full Federal interagency coordination in a July 23, 2010 letter to the Department of State.
The Keystone XL Pipeline is a proposed 1,980 mile-long project with the capacity to carry up to 900,000 barrels a day of dirty tar sands oil from Canada to refineries on the Texas Gulf Coast -- with stops along the way in various other states.
See: Johanns Counters Latest Pipeline Claims. Nov. 4, 2010.
Sen. Mike Johanns today sent a letter to Secretary of State Hillary Clinton directly addressing statements opposing the consideration of additional alternative routes for the Keystone XL pipeline proposed by TransCanada Corporation. Johanns also reiterated his request for a Supplemental Draft Environmental Impact Statement.
A copy of the letter can be found here.
Earthworks
The pipeline will provide a conduit for the dirty tar sands oil of northeastern Alberta to reach United States markets. Tar sands oil is the dirtiest kind of oil currently available on the market -- both because of its climate change impacts, and because of its local environmental impacts.
In Canada the pipeline will extend approximately 327 miles from Hardisty, Alberta southeast through Saskatchewan before entering the United States in Morgan, Montana, where it will continue on southeast for 836 miles through South Dakota and Nebraska.
In Steele City, Nebraska the pipeline will connect to the 296-mile long Keystone Pipeline before resuming in Cushing Oklahoma, where it will continue on to its final destination at existing terminals in Nederland, Texas.
Both Hinchey and Johanns have been rebuffed by the President and the State Department. Might this be telling us about the direction the Administration is taking in regards to its Energy Policy? (Neil Zusman, 2010-11-01.)
See: Johanns asks Clinton for additional review of pipeline
See: Aleysha Rascoe. "Senators raise concerns on oil sands pipeline". Reuters. Oct. 29, 2010. Reposted by John Donovan. Royal Dutch Shell plc.com. 2010-10-31.
See: N.Y. Democrat Fires Back at Obama Admin in Fight Over Shale Drilling
See: Baucus Urges Fast Approval Of Keystone XL Pipeline
See: New Tar Sands Oil Pipeline Will Lock U.S. into Dangerous Consequences
See: H2Oil: An Explanation of the Tar Sands in Alberta
See: Staying Hooked on a Dirty Fuel - Why Canadian Tar Sands Pipelines Are a Bad Bet for the United States
Legislating Under the Influence
, , (2010)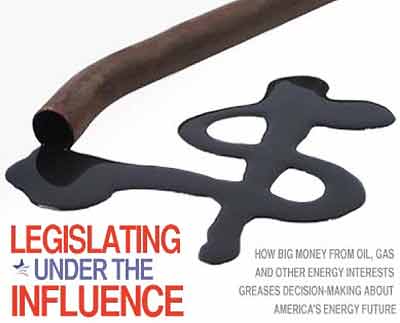 The energy industry's money floods Congress and regulatory agencies.
Executive Summary
Long before BP's Deepwater Horizon well began belching oil into the Gulf of Mexico, BP and the rest of the energy industry had turned loose a gusher of cash in Washington, saturating Congress and the federal government's regulatory apparatus.
In the last decade alone, big energy has pumped more than $2.9 billion into electing and lobbying federal officials and candidates, according to campaign finance and lobbying disclosure reports.
That's about $5.5 million for each of the 535 seats in the House and Senate.
As energy dollars flow freely in Washington, the development of alternative energy sources proceeds slowly, at best, and the nation's reliance on energy produced overseas grows deeper. Meanwhile, at the industry's urging, a 27-year moratorium on oil and gas drilling off the east coast has been allowed to expire and legislation to cap carbon emissions, pushing oil-gulping industries to find new energy sources and use petroleum more efficiently, has stalled in Congress.
See: Dirty Energy Money
See: Big Money Drives Up the Betting on the Marcellus Shale
See: Opponents to Fracking Disclosure Take Big Money From Industry
See: Fueling Washington
Lisa P. Jackson, EPA (lisapjackson) on Twitter
, , Lisa P. Jackson, EPA (lisapjackson) on Twitter, (2010)

Lisa Jackson's Twitter feed is one of the ways the Environmental Protection Agency communicates with the public. She has 13,000 followers and follows Barack Obama, Greenversations, the official Blog of the U.S. Environmental Protection Agency, among others. I don't know if she's read many of the eco-blogs covered on this site, but she's not following them on Twitter.
Public meetings have been the traditional way that the EPA has defensively communicated with the public in the past. Molly Ivins has written about Bob Spiegel's 1992 videotapes on the Edison Wetlands (New Jersey) in Bushwhacked.
I attended a meeting on hydraulic fracturing in Binghamton last year. The EPA seemed to do a great job. Judith Enck was a good listener. Bill Wolfe has a report on that meeting at WolfeNotes.com, "On the Threshold of a Fracking Nightmare".
Is our contact with EPA an outcome of a new transparency? How is it going?
Despite calls for transparency from Republicans (Sen. Johanns) and Democrats, (Rep. Hinchey); the Obama administration has signalled that the U.S. is intending to develop natural gas and promote Tar Sands development before environmental impact studies have been completed. There have been no social impact assessments (Freudenburg, 1986) on this development rush, just a lot of public gushing over the new Shalellionaires.
Despite the recent (1/11/11) announcement of a $7 million dollar EPA grant to fund cumulative human health risk assessment research, EPA science still emphasizes engineering over socioeconomic studies in both their selection of reviewers for the upcoming study of hydraulic fracturing and their communication with the public about toxic threats close to home.
Last year, a USGS (U.S. Geological Society) "fish" scientist was one of the co-authors of a study reported by Coal Tattoo:
West Virginians who live near streams polluted by coal mining are more likely to die of cancer, according to a first-of-its kind study published by researchers at West Virginia University and Virginia Tech.
Both the EPA and the USGS have many scientists doing research that cross over their specific areas of responsibility. The list of media contacts found below leaves me wondering how I would react if I were a West Virginian stream dweller. What about the stream by the school? What about our animals? Who can I call?
I have not found a Hydraulic Fracturing media representative as of 1/11/11. Hydraulic Fracturing deserves a subject area and its own media representative from this Federal Agency. (Neil Zusman, 2011-01-11.)
See: "Seven Priorities for EPA's Future", a Memorandum from Lisa P. Jackson, Administrator to all EPA Employees. (Jan. 12, 2010).
Air Quality
Chemical Risk Management
Children's Health
Climate Change
Drinking Water
Drinking Water Security
Emergency Response
Endocrine Disruptors
Enforcement
Enforcement Advisory
Environmental Education
Environmental Information
Environmental Justice
Federal advisory committees
FOIAs (Freedom of Information Acts)
Fuels
Ground Water
Hazardous Waste
Health Risk Assessments
Homeland Security
Radiation
Recycling
Solid Waste
Superfund
Toxics
Tribal Issues
Underground Storage Tanks
Wastes
Wastewater
Water
Watersheds
Wetlands
Yucca Mountain
Ms. Jackson maintains a blog and this Twitter feed and is the person responsible for the Office of the Administrator. Press releases may be received by email automatically here:
Find contacts for specific topics in the table on the Media Contacts link above or call the general phone line: 202-564-4355.
See: EPA in the Crosshairs | Mixplex