What The Frack? Gas Industry's Multimillion-Dollar Campaign Demonizes Hydraulic Fracturing Bill
, , The Wonk Room, (2009)

"Rep. Diane DeGette's (D-CO) attempt to regulate fracking — underground hydraulic fracturing for natural gas extraction — is under attack by a multimillion-dollar lobbying and public-relations campaign from the oil and gas industry. Led by the American Petroleum Institute and the Independent Petroleum Association of America, dozens of industry organizations established the Energy in Depth front group to denounce fracking legislation as an "unnecessary financial burden on a single small-business industry, American oil and natural gas producers."
See: Lee Fuller. "HF 101: As Cornell Begins Study of Shale Gas Exploration, Energy In Depth Offers Itself Up as Resource for Ad Hoc Panel". Energy in Depth.
Climate Zombies Now Run The House
, , The Wonk Room, (2011)


The incoming Republican chairs of the House of Representatives plan to send the United States back to the Stone Age with respect to climate policy. All of them opposed the climate legislation supported by President Barack Obama, and now oppose limits on global warming pollution under the Clean Air Act. Several have accused climate scientists of doctoring data and suppressing dissent; the others merely claim climate policy is actually a conspiracy to destroy the American economy. Meet the climate zombies who will be in charge of developing all federal legislation for the next two years:
SENATE
HOUSE
See: Grist. Dec. 29, 2010. "Upton argues Obama plans to destroy America in the name of global warming."
GOP Budget Amendments Would Destroy Health, Economy, Planet
, , The Wonk Room, (2011)

Of the over 400 amendments offered on the House government-funding measure, the 2011 Continuing Resolution (H.R. 1), dozens are focused on climate change, energy policy, and environmental protection. The existing language in the budget bill is already designed to deny global warming, slash and burn public health and green jobs, but the amendments would take even more radical steps to reward polluters who are killing our children's future. Republican amendments, if fully enacted, would:
– Eliminate the White House Council on Environmental Quality, the Special Envoy for Climate Change, the Assistant to the President for Energy and Climate Change, the NOAA Climate Service, the Department of Energy's ARPA-E, National Science Foundation K-12 funding
– Block US funding for the Intergovernmental Panel on Climate Change and the Global Environment Facility
– Suspend enforcement of fisheries laws and construction and conservation acquisition programs of the National Parks and Department of the Interior
– Block rules for cement plant pollution, coal ash, industrial boiler pollution, water quality, climate change pollution, climate change adaptation, energy-efficient lighting, mountaintop removal, atrazine, and water conservation.
"Most of these amendments are budget neutral, not lowering the deficit one cent. Several defund extremely effective jobs programs that cost only a few million dollars. The goal of these amendments is not fiscal responsibility or jobs creation, but polluter protection, even though the pollution is poisoning babies, causing the elderly to suffer, and destroying America's natural bounty.
Max Shelby | Vincent Alabama said, find how your representative voted and give 'em hell!
These were revenue-neutral amendments, meaning they weren't aimed at reducing the federal budget deficit, but were designed solely to prevent the EPA and other government agencies from updating and enforcing clean air and clean water laws. In short, it was Christmas for polluters.

House committee votes to deny climate change
, , Grist, (2011)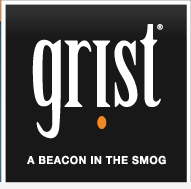 Today, Republicans in the House energy committee voted not once, not twice, but three times [all PDFs], against amendments recognizing that climate change is real, despite the broad scientific consensus that "climate change is happening and human beings are a major reason for it." They then unanimously voted [PDF] in favor of the Upton-Inhofe bill to repeal the EPA's scientific endangerment finding on greenhouse pollution.
The 31 Republicans and three Democrats who voted in favor of H.R. 910 have received a grand total of $343,750 from Koch Industries, an average of more than $10,000 each. Freshman Mike Pompeo (R-Kan.), Koch's special man in Congress, tips the scales at $79,500.
But today's vote is not the first time the Commitee From Koch went public on their science denial.
[Following is] a survey of the members of the committee, fueled by support from Koch Industries and other polluters, and their proclaimed opposition to climate science and climate scientists...
See for yourself. Chairman Upton, Rep. Barton, Rep. Waxman, et al. "Full Committee Markup on "H.R. 910" and "H.J. Res. 37" (Continued)". YouTube. (Running Time - 4:56:37).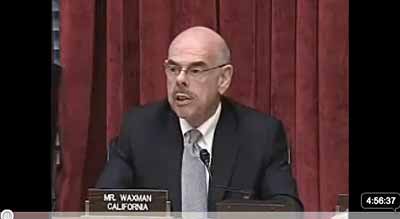 See: Comments from Committe on Energy and Commerce Democrats:
Letter in Opposition from Scientists: "The EPA must be allowed to fulfill its responsibilities and take action to regulate global warming emissions under the Clean Air Act. This science-based law has prevented 400,000 premature deaths and hundreds of millions of cases of respiratory and cardiovascular disease during the 40 years since it was first passed5—all without diminishing economic growth."
Letter in Opposition from National Academy of Sciences: "We are deeply disturbed by the recent escalation of political assaults on scientists in general and on climate scientists in particular. All citizens should understand some basic scientific facts."
Letter in Opposition from Former Senior Military Officers: "America's dependence on oil constitutes a clear and present danger to the security and welfare of the United States. As former senior military officers, we are concerned about Congressional efforts to undermine the Environmental Protection Agency's regulatory authority that is critical to reducing our dependence on oil."
Letter in Opposition from Health and Medical Professionals: "Please fulfill the promise of clean, healthy air for all Americans to breathe. Support full implementation of the Clean Air Act and resist any efforts to weaken, delay or block progress toward a healthier future for all Americans."
Letter in Opposition from the American Public Health Association: "Cimate change is a public health issue and is one of the greatest threats to human health. Scientists from across the globe have stated in the strongest possible terms that the climate is changing and that human activity is to blame."
Letter in Opposition from Organizations: "This reckless legislation puts America's health, prosperity, and national security at risk by gutting the Clean Air Act, overturning a decision of the Supreme Court, and dismantling the Environmental Protection Agency's ability to address life-threatening carbon dioxide and other pollution."
Letter in Opposition from Health Organizations: "This legislation would block the EPA from setting sensible safeguards to protect public health from the effects of air pollution."
Letter in Opposition from the American Lung Association: "A recent bipartisan survey... indicates the overwhelming view of voters: 69 percent think the EPA should update Clean Air Act standards with stricter limits on air pollution; 64 percent feel that Congress should not stop the EPA from updating carbon dioxide emission standards; 69 percent believe that EPA scientists, rather than Congress, should set pollution standards."
See: Broder, John M. 2011. House Panel Votes to Strip E.P.A. of Power to Regulate Greenhouse Gases. The New York Times, March 10, sec. Science / Environment.
See: Reeve, Elspeth. 2011. House Energy Panel Curbs Federal Power to Fight Climate Change - Politics - The Atlantic Wire. The Atlantic Wire. March 16.
See: EPA chief faces hostile House GOP
See: Smackdown: climate science vs. climate economics.
See: Climate Co-benefits and Child Mortality Wedges.
See: Snubbing Skeptics Threatens to Intensify Climate War,
See: Climate Zombies Now Run The House.
See: GOP Budget Amendments Would Destroy Health, Economy, Planet
See: EPA chief faces hostile House GOP
See: Energy & Commerce Committee Investigates Potential Impacts of Hydraulic Fracturing
For one of the more articulate conservative bloggers viewpoints on climate change and its' hermeneutics, read Alberta, Canada's Kevin Libin at ClimateRealists and The National Post.
See: Libin, Kevin. 2011. "Kevin Libin: Environmental activists hide behind a screen of U.S. money." National Post.
For an embarassing account of the dangers of environmentalism, see: Beware The Green Dragon! | Right Wing Watch.