Government
Fracking: Government Regulations, Legislation, Politics and Information
---
NYS Senate Session Hydro Fracking Debate - 8/3/10
, , Number S8129, (2010)
Abstract
BILL NUMBER:S8129. Passed 48-9. Aug. 3, 2010.
See: Patterson Veto and updates on Marcellus Shale legislation from E2 Law Blog.
See: Solid Shale
Solid info for NYS citizens who want their grandkids to be able to walk on unpolluted ground.
This is the place to read about bills having to do with gas exploration and extraction that are under consideration, and then read what others think about them in the comments (or share your own thoughts!).
See Assembly Bill, A1322c. "An act to amend the environmental conservation law, in relation to environmental protection related to the drilling of oil and gas wells, and providing for the repeal of certain provisions upon expiration thereof".
Pictured in still frame: George Winner, who voted against the Bill.
See: Transcript (PDF 99k)
TITLE OF BILL: An act to suspend hydraulic fracturing; and providing for the repeal of such provisions upon the expiration thereof
PURPOSE OR GENERAL IDEA OF BILL: This bill seeks to place a suspension of any permitting for hydraulic fracturing low permeability natural gas reservoirs, such as the Marcellus and Utica shale formations to ensure adequate review and analysis of the effects of this type of drilling on water quality, air, environmental, safety and public health.
SUMMARY OF SPECIFIC PROVISIONS: This bill suspends the issuance of new permits for the drilling of a well which utilizes the practice of hydraulic fracturing for the purpose of stimulating natural gas or oil in the Marcellus Shale formation.
JUSTIFICATION:
The potential for development of natural gas drilling in the Marcellus Shale formation within New York State has created robust debate involving the interplay between job creation and protection of the environment. Stakeholders both in support and opposition to these developments are aggressively advancing positions that are expansive and highly controversial.
By delaying DEC's ability to issue permits until May 15,2011, this bill will provide the Legislature additional time to assess the true environmental impacts of horizontal drilling and hydraulic fracturing.
This bill will also allow the Legislature to properly deliberate the numerous concerns that have come forward during the public comment period on the Department of Environmental Conservation's draft Supplemental Generic Environmental Impact Statement (draft SGEIS).
The May 15,2011 date also ensures that the Legislature will have ample opportunity to act in the 2011 Legislative Session. Gas drilling carries with it risks of accidents, including blow-outs and hazards related to gas seeping from wells. There are also potential effects on the communities in which shale gas production is located, including traffic, noise, and an influx of transient workers. Air quality, road creation, and habitat destruction all need to be taken into account, but by far the biggest concern is water safety.
The large withdrawals of water required for hydrofracking could disrupt surface and ground water ecosystems, and improper management of drilling and hydrofracking chemicals, drilling waste, and wastewater could pollute surface water and/or groundwater.
Given the complexities of the environmental and policy issues under consideration, the need for a one year suspension on the permitting process for development of natural gas drilling in the Marcellus Shale formation cannot be overstated. This will allow for a thorough, deliberate and unrushed analysis of all factors involved.
PRIOR LEGISLATIVE HISTORY: New bill.
FISCAL IMPLICATIONS: None.
EFFECTIVE DATE: This act shall take effect immediately, and shall expire and be deemed repealed on May 15, 2011.
S8129B Votes
Vote: Floor - Aug 3, 2010
Ayes (48): ADAMS, ADDABBO, ALESI, BONACIC, BRESLIN, DEFRANCISCO, DILAN, DUANE, ESPADA, FARLEY, FLANAGAN, FOLEY, FUSCHILLO, HANNON, HASSELL-THOMPSON, HUNTLEY, JOHNSON C, JOHNSON O, KLEIN, KRUEGER, LARKIN, LAVALLE, LEIBELL, MARCELLINO, MCDONALD, MONTGOMERY, NOZZOLIO, ONORATO, OPPENHEIMER, PADAVAN, PARKER, Peralta, PERKINS, RANZENHOFER, ROBACH, SALAND, SAMPSON, SCHNEIDERMAN, SERRANO, SEWARD, SKELOS, SMITH, SQUADRON, STACHOWSKI, STAVISKY, STEWART-COUSINS, THOMPSON, VALESKY
Nays (9): AUBERTINE, GRIFFO, LANZA, LIBOUS, LITTLE, MAZIARZ, VOLKER, WINNER, YOUNG
Abstains (2): DIAZ, KRUGER
Excused (2): GOLDEN, SAVINO
Obama Admin Rejects Timeout for Natural Gas Drilling in N.Y., Pa.
, , The New York Times: Greenwire, (2010)
The Obama administration has decided against pressing for a temporary halt to Marcellus Shale drilling in Pennsylvania and New York, a key federal official said.
Brig. Gen. Peter "Duke" DeLuca, commander of the North Atlantic Division of the Army Corps of Engineers, last week declined a request from Rep. Maurice Hinchey (D-N.Y.) to use the federal government's vote on the Delaware River Basin Commission (DRBC) to seek a temporary ban on gas production in the Delaware watershed.
Hinchey wants drilling there to wait until the commission completes a "cumulative impact statement," but DeLuca said that could delay drilling for years...
...Hinchey wrote DeLuca on Sept. 9, saying he was alarmed that the DRBC is preparing to finish regulations -- which would allow production to start -- this year, before a cumulative impact study could even start. He asked DeLuca to use his seat on the commission to advocate for blocking development until after the study is done.
"It is difficult to understand how the DRBC can consider the release of gas drilling regulations without a comprehensive assessment of the possible impacts in the Delaware River Basin," Hinchey wrote...
Environmentalists say DeLuca is wrong when he asserts that the DRBC must balance environmental concerns with economic development. Jill Wiener, a leader of an upstate New York group called Catskills Citizens for Safe Energy, said the commission's mandate is to protect water quality.
"They owe their fealty to the river and the people of the basin," Wiener said, "not the economic health of a few leaseholders and multinational corporations."
But industry officials say DeLuca was correct to reject Hinchey's request.
"Just to be clear here, Hinchey was trying to use a federal agency to direct the actions of a regional water board for the purposes of preventing the development of natural gas in a state where he doesn't even live," said Chris Tucker, spokesman for Energy in Depth, a group of independent drillers. "Next thing you know, he'll be ordering the Army Corps to build levees around our well sites in Wyoming."
Obama's gifts to extractive industries continue with defense of Bush mining policy
, , Earthworks, (2010)

WASHINGTON, D.C., April 1st, 2010 -- In addition to opening up vast areas of our coastline to offshore oil drilling, the Obama administration yesterday elected to defend a Bush-era policy that allows unlimited amounts of our nation's treasured public lands to be used as toxic waste dumps for the multinational hardrock mining industry.
This decision -- in the form of a response to federal litigation filed by a coalition of conservation and Native American groups -- is completely inconsistent with earlier remarks by Interior Secretary Ken Salazar on the importance of updating our federal mineral policies to protect public lands.
"Increased oil and gas drilling off our coasts, and now unlimited toxic waste dumping on our public lands send the message that profits are more important than water, wildlife and communities," said Lauren Pagel, Policy Director for EARTHWORKS, one of the plaintiffs in the case against the regulations. She continued, "With this move the Obama administration, like the Bush administration before it, is abandoning clean water and communities in favor of gifts to extractive industries."
"The administration has claimed support for reforming one of the most outdated laws on the books -- the 1872 Mining Law -- yet they choose to perpetuate the gross giveaways to an already subsidized industry without regard for other valuable uses of the public's land," said Pagel.
She continued, "It's time for the Obama administration to walk their talk when it comes to our shorelines and our public lands, and responsibly balance resource extraction with protections for communities and taxpayers," said Pagel.
See: "National Parks Traveler | Bush Administration Poised to Sell Oil and Gas Leases Around Dinosaur National Monument, Arches and Canyonlands National Parks"
Opinion: Avoiding America's next drilling disaster
, , Philadelphia Inquirer, Philadelphia, PA, (2010)

While our nation copes with the disaster in the Gulf of Mexico and the multiple failures of offshore drilling regulation that led to it, another potential fossil-fuel crisis lurks onshore.
Hydraulic fracturing, also known as "fracking," injects tens of thousands of gallons of water, sand, and chemicals at high pressure into underground rock formations to release natural gas. The injected fracking fluids are known to include a variety of harmful chemicals, such as diesel fuel, benzene, methanol, and formaldehyde. Even low concentrations of these chemicals can have severe health and environmental consequences, and they are being used near drinking water supplies...
...Some in the industry have said disclosure would reveal proprietary data. On the contrary, just as Coca-Cola must disclose a list of ingredients but not the details of its secret formula, our proposal would ask energy companies to share the ingredients of their fracking fluids but not the specific recipes.
Others have opposed federal regulation on the grounds that state regulations are sufficient. However, only a handful of states have fracking-fluid disclosure requirements, and some don't make the data public.
Robert Casey
is a Democratic U.S. senator from Pennsylvania.
Diana DeGette
is a Democratic U.S. representative from Colorado.
See opposing viewpoint from Energy in Depth, "House Call on the FRAC Act".
Raul Grijalva's MySpace Blog |
, , Raul Grijalva's MySpace Blog, (2006)

Raul Grijalva. January 19, 2006. The Nation. "Coming Clean and Green."
"Much of the progress made over the past four decades in protecting the environment has been reversed by the Bush Administration. Its priorities are clear: The interests of corporate contributors always trump the public's well-being."
This article appeared in the February 6, 2006 edition of The Nation. Raul Grijalva, Chair of the House Democratic Environmental Task Force, has represented Arizona's 7th District since 2003.
Safe Drinking Water Act (SDWA) | Safe Drinking Water Act | US EPA
, , U.S. Environmental Protection Agency, (2010)

The Safe Drinking Water Act (SDWA) is the main federal law that ensures the quality of Americans' drinking water. Under SDWA, EPA sets standards for drinking water quality and oversees the states, localities, and water suppliers who implement those standards.
SDWA was originally passed by Congress in 1974 to protect public health by regulating the nation's public drinking water supply.
The law was amended in 1986 and 1996 and requires many actions to protect drinking water and its sources: rivers, lakes, reservoirs, springs, and ground water wells. (SDWA does not regulate private wells which serve fewer than 25 individuals.)
Web Article contains links to legal, scientific, and contact information.
See: Safe Drinking Water Act 101 | Online Training | Drinking Water Academy
Scalise: Cap-and-Trade Hinders Job Growth
, , Congressman Steve Scalise Representing the 1st of Louisiana, (2010)

Congressman Scalise serves on the Subcommittee on Energy and Environment. Cap-and-Trade Hinders Job Growth, By Rep. Steve Scalise, Published in Roll Call February 8, 2010.
"...our state has seen success onshore by using safe, responsible and environmentally sound energy production technologies such as hydraulic fracturing.
Recently, this new technology was used to produce oil and gas from shale rock in Haynesville, La. This project helped create 32,742 new jobs within the state and added $3.2 billion to our economy through lease and royalty payments."
Scalise: EPA Declares CO2 a Dangerous Pollutant Based on "Climate Gate's" Corrupt Science
, , Congressman Steve Scalise Representing the 1st of Louisiana, (2009)

Congressman Scalise serves on the Subcommittee on Energy and Environment. Monday, December 7, 2009.
"Regulation of green house gases will put millions of American jobs in danger."
Washington, DC -- Congressman Steve Scalise (R-LA) today made the following statement after the U.S. Environmental Protection Agency (EPA) announced that they have declared carbon dioxide (CO2) along with five other gases as dangerous pollutants.
"The EPA's decision today is another example of this Administration's liberal agenda that is killing jobs. What makes the EPA's decision even more reckless is the fact that it is based on corrupt science that has recently been exposed by the 'Climate gate scandal,'" Scalise said.
"At a time when the American people are asking 'where are the jobs,' the Obama administration continues to promote policies that run jobs out of our country while adding unprecedented debt onto the backs of our children and grandchildren."
Senators Want to Bar E.P.A. Greenhouse Gas Limits
, , The New York Times, (2010)
By JOHN M. BRODER, New York Times, January 21, 2010.  "In a direct challenge to the Environmental Protection Agency's authority, Senator Lisa Murkowski, Republican of Alaska, introduced a resolution on Thursday to prevent the agency from taking any action to regulate carbon dioxide and other climate-altering gases."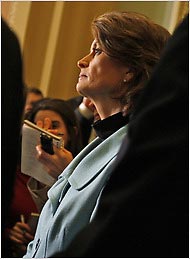 Ruth Fremson/The New York Times
Senator Lisa Murkowski is challenging the authority of the Environmental Protection Agency.
Smitsky Letter
, , YouTube, (2010)
Virginia Smitske's son from Hickory PA narrates. Their water is tainted and government regulations have proven ineffective. They buy a lot of bottled water.
Here is a picture of the brown water. It's not always this brown, but its always full of toxins!
It's strange how people are so scared of the swine flu, but when you talk about how the gas drillers are poisoning our water, people think you're crazy, or they get mad because they think they can get rich off the deal the gas company is promising.
The money is more important to them than their health.