Contains the keyword companies
U.S. Energy Development Corporation
, , U.S. Energy Development Corporation | Strive for Excellence, (2010)
Meadville, Pa. —The Department of Environmental Protection has issued a cease and desist order to U.S. Energy Development Corp. of Getzville, N.Y., for persistent and repeated violations of environmental laws and regulations.
The order prohibits the company from conducting all earth disturbance, drilling and hydro-fracturing operations throughout Pennsylvania.
The 302 violations that serve as the basis for the order were documented over a period of two years, beginning in August 2007.
Buffalo News. "Protesters picket company looking to drill in Allegany State Park". Apr 16, 2010.
AMHERST -- About 50 protesters demonstrated this afternoon in front of the headquarters of the company that wants to drill for oil in Allegany State Park.
The demonstrators, most of whom were college-age, spoke out against U.S. Energy Development Corp.'s proposal to harvest gas and oil from mineral deposits below sections of the park.
U.S. Energy Development Corporation is "one of the largest drillers in both New York and Pennsylvania."
Universal Well Services, Inc.
, , Universal Well Services, (2010)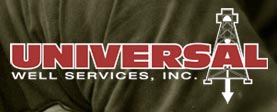 Universal Well Services is one of the large companies being investigated by the U.S. House Energy and Commerce Committee to see if the gas extraction method known as hydraulic fracturing, or fracking, is a hazard to groundwater drinking supplies.
According to its website, Universal is a premier source for hydraulic fracturing, cementing, nitrogen and acidizing services in the Appalachian Basin.
With its corporate headquarters in Meadville, Pa, Universal Well Services, Inc has grown from 200 employees in 2002, to over 800 employees at the end of 2007. Universal Well Services is a division of Patterson-UTI, and the parent company of Eastern Reservoir Services.
Universal's services in the Appalachian Basin include hydraulic fracturing, as well as acidizing, cementing and nitrogen services. Specialty services include engineering, chemical cleaning, jetting and high pressure pumping.
FracFocus Chemical Disclosure Registry
, , (2011)

This website is a joint project of the Ground Water Protection Council and the Interstate Oil and Gas Compact Commission. It was launched on April 11, 2011 and only covers wells drilled starting in 2011. It appears to be an attempt at Gas Industry "transparency" and has funding support from the U.S. Depatment of Energy (DOE). It claims to disclose the chemical additives used in the hydraulic fracturing process on a well-by-well basis.

Of all the lobbyists bringing their issues to Capitol Hill, the Groundwater Protection Council is one of the smaller players. I have to wonder, reading the rankings on Open Secrets, "Lobbying Spending Database: Environment, 2009", why this groundwater organization spends less on its annual lobbying than "Fur Wraps the Hill" or the "Pittsburgh Parks Conservancy"? Groundwater is a hot button national issue, affecting both the urban and agricultural sectors.
The industry groups proudly stamping their logos on FracFocus need to come up with more cash or be outed as a do-nothing front organization advocating the corporate pillaging of our natural resources in the name of energy development. They wave the Tenth Amendment around like the flag at Iwo Jima.
How do they demonstrate the committment to "protecting our nation's ground water"? They conveniently share an address with the Interstate Oil and Gas Compact Commission (IOGCC). 13308 N. MacArthur Blvd., Oklahoma City, OK.
IOGCC claims to have a noble mission but talk is cheap... They advocate less intervention by the Federal government on behalf of the shared resources in our environment. Twenty thousand bucks?
Read between the lines! Here is a letter written to Congress by the IOGCC calling for the Feds to keep their hands off! The $20,000 looks like a smokescreen to me. Pocket change...(Neil Zusman, 2011-05-24).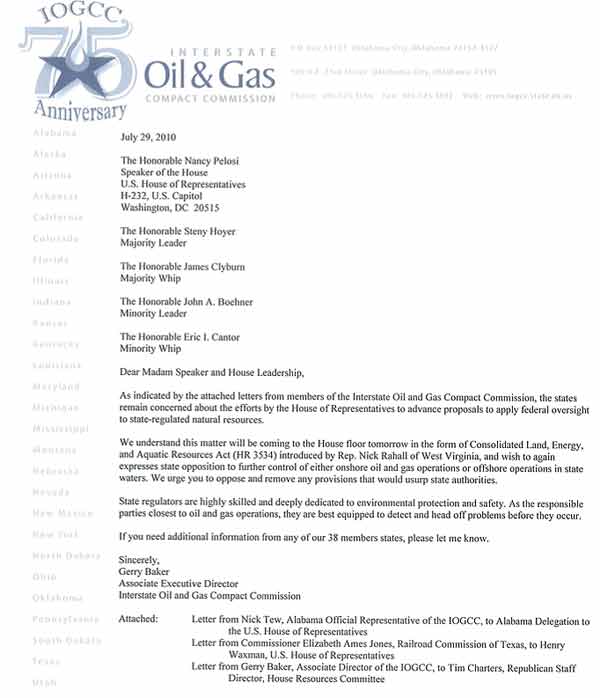 From their website:
On this site you can search for information about the chemicals used in the hydraulic fracturing of oil and gas wells. You will also find educational materials designed to help you put this information in perspective.
See: Chu Names Panel to Study Fracking.
My critique of the NYT Green report
Broder's piece goes on to offer a smokescreen of protest by the right, but according to Dusty Horwitt of the Environmental Working Group, "An industry insider like John Deutch is completely unacceptable to lead this panel...It looks as if the Obama Administration has already reached the conclusion that fracking is safe."
Natural gas: the commodity world's ugly duckling
, , Marketwatch | Commodities Corner, (2011)

Natural Gas Futures Chart Feb11
Commentary: Is the natural-gas story ready to transform?
"Natural gas is the ugly duckling of the commodities," said Ben Smith, president of First Enercast Financial, an information vendor serving energy markets.
But just like the beloved Hans Christian Andersen fairy tale, the natural-gas story has the potential to transform — if investors are patient enough to wait.
Many commodities had seen a downtrend since the peak in prices in 2008, but copper, gold and agricultural commodities have been making new highs, and oil and iron ore have rebounded, said Evan Smith, co-manager of the $900 million Global Resources Fund, which climbed 38% last year.
"Natural gas is probably the only commodity that has set lows recently, with no rebound," he said.
At the same time, the natural-gas market has had about $28 billion of capital come in over the last couple of years, in the form of joint ventures, largely from foreign oil companies such as India's Reliance Industries Ltd. or France's Total S.A. he said.
There's too much capital coming in from foreign oil companies, and this "has largely led to continued drilling, which keeps the supply higher than it should be," he said. And it could take a year before the market sees an incremental decline in drilling activity from companies reducing capital commitments to drill natural gas.
Even then, it could take even longer before the market reacts.
"The market currently believes this massive [shale] supply windfall will keep prices suppressed for many years," Ben Smith said.
See: Big Money Drives Up the Betting on the Marcellus Shale
See: Krauss, Clifford. "Cheniere Energy, In Reversal, Wants to Export Natural Gas." The New York Times 27 Jan. 2011. Web. 28 Jan. 2011.
The oil patch is a world of risk takers, but few are as daring as Charif Souki, the chairman and chief executive of Cheniere Energy.
A decade ago, Mr. Souki warned of an impending natural gas shortage, and set out to build a network of gas import terminals after none had been built in a generation. He lured Chevron and the French oil giant Total into signing long-term use agreements, and Cheniere's stock price rocketed from less than $1 a share in 2002 to more than $40 in three years.
But the sudden boom in gas drilling that took off around 2005 created a glut, ruining Mr. Souki's dream. Cheniere's stock price collapsed to $2. And he managed to complete only one terminal, at a cost of $1.4 billion, that stands idle much of the time.
Now he is trying to recoup his investment by making the opposite bet: that he can profitably export cheap American natural gas to Europe and Asia, where prices are roughly twice as high.
...gas producers desperately looking for ways to raise prices view Mr. Souki as a hero.
See: Dave Cohen. Shale Gas Shenanigans. Energy Bulletin. March 29, 2010.
See: See: Lisa Bracken Website: Journey of the Forsaken.
South Africa Endorses Plans For Karoo Gas-Drill Freeze, Ending Shell Hopes
, , Bloomberg.com, (2011)

South Africa's Cabinet endorsed the Department of Mineral Resources' decision to declare a moratorium on natural-gas drilling in the Karoo region, halting plans by Royal Dutch Shell Plc (RDSA), Europe's largest oil company.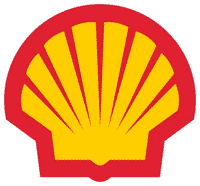 The department will lead an investigation into the implications of hydraulic fracturing, or fracking, that will include assessing the environmental effects, government spokesman Jimmy Manyi told reporters in Pretoria today.
"Cabinet has made it very clear that a clean environment together with all the ecological aspects will not be compromised," Manyi said. The cabinet is aware of the "urgency that is required in this respect," he added.
Royal Dutch Shell applied for permission to drill about 24 wells in an area of about 90,000 square kilometers (34,749 square miles). The company faces opposition in the sheep- and game-farming region, an arid stretch across northwest South Africa, from the Treasure the Karoo Action Group, which fears environmental damage.
See: Aragom Eloff. Ivo Vegter vs. the Fracking Fringe. 2011-04-18.
See: Julienned DuToit. Fracking the Karoo - The People Say No! 2011-01-31.
See: Lewis Pugh. Frack Off, Shell!. 2011-04-05
See: Donald Paul. Drill Baby Drill. 2011-04-18.
The Case of Chevron
, , Friends of the Earth, (2011)
According to the EPA's National Emission Inventory, Chevron was responsible for 4,030,422.95 pounds of green house gas emission pollution in Plaquemines Parish, Louisiana in 2002.
Chevron was the first international oil company to operate in Nigeria and has, for almost 40 years of operations there, practiced the wasteful process of burning off of gas associated with oil drilling.
This gas flaring has resulted in the flaring of billions of cubic feet of natural gas. These flares have and are wrecking havoc on the air and water quality in the Niger Delta. Communities living near the flares are suffering from a myriad of health issues and are more likely to get cancer and suffer from asthma as a result of breathing flare smoke. Many flares have been burning for over 20 years and in locations only a few hundred yards from the center of the nearest village.
According to the Canadian Public Health Association, gas flares contain as many as 250 toxins and their smoke emits particulate matter---including sulfur dioxide, nitrogen dioxides and carcinogenic substances as well as unburned fuel components, including benzene, toluene, xylene, and hydrogen sulfide. Exposure to benzene and its metabolites causes acute nonlymphocytic leukemia and a variety of other blood-related disorders in humans.
According to the US Environmental Protection Agency Flare smoke can cause aggravated asthma, increases in respiratory symptoms like coughing and difficult or painful breathing, chronic bronchitis, decreased lung function, and premature death.
Gas Flaring also causes acid rain, corroding roofs, acidifying lakes and streams and damaging vegetation. This acid rain, combined with frequent oil spills--totaling more than 10 Exxon Valdez spills--and dumping of toxic drilling waters into rivers has severely depleted fish stocks, which the people of the Delta rely on.
See: Chevron Human Energy Stories | Addressing Climate Change
See: Poison Fire
See: Rancho Los Malulos | A satirical view from the McGill Brothers Lease
See: Natural gas: the commodity world's ugly duckling
See: Controversial gas 'fracking' extraction headed to Europe
See: As You Sow - Corporate Accountability, Shareholder Action, and ToxicsReduction
The Warriors of Qiugang: 仇岗卫士 A Chinese Village Fights Back
, , Yale Environment 360, (2011)


Like many villages in China's industrial heartland, Qiugang — a hamlet of nearly 1,900 people in Anhui province — has long suffered from runaway pollution from nearby factories.
In Qiugang's case, three major enterprises with little or no pollution controls churned out chemicals, pesticides, and dyes, turning the local river black, killing fish and wildlife, and filling the air with foul fumes that burned residents' eyes and throats and sickened children.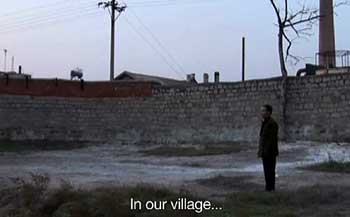 This exclusive e360 video report, "The Warriors of Qiugang" — co-produced by Yale Environment 360 — tells the story of how the villagers fought to transform their environment, and, in the process, found themselves transformed as well.
The 39-minute video focuses on an unlikely hero — farmer Zhang Gongli, now almost 60, who leads the village's fight to shut down the chemical plant. Soft-spoken and easy-going, but with a backbone of steel, Zhang — who has only a middle-school education — quickly learns how to use China's more stringent federal environmental laws to put pressure on the factory owners and their cronies in local and regional government.
"We are sorry to be born in this place," says Zhang, "but we had no choice. This was forced upon us."
The camera follows Zhang as he deals with threats from local thugs, rallies his neighbors, and travels to Beijing, where he attends a heady meeting of China's emerging environmental movement. Zhang — like so many other Chinese — finds himself plunged into a new and wholly unfamiliar world.
The Warriors of Qiugang, was nominated for a 2011 Academy Award for Best Documentary (Short Subject).
See: A Life's Value May Depend on the Agency, but It's Rising