Contains the keyword companies
Covalent Energy
, , Developing domestic and international unconventional energy resources, (2010)
Covalent has been drilling near Cooperstown, NY.  In 2008, it tried to purchase water from the Village of Cooperstown for their deep shale drilling.  Jim Austin of The Cooperstown Crier (July 24, 2008) reports that the village board has voted not to move forward with the proposal, and Covalent plans to look to Cortland.
"Personally," said Trustee Lynne Mebust, "I don't see an upside for the village." …
Prior to taking the vote, the board listened to comments from the public, which were largely against the sale of water.
Covalent Energy is a privately held exploration and development company focused on developing domestic and international unconventional energy resources.
Dominion
, , Dominion, (2010)
In 2004, the Political Economy Research Institute ranked Dominion Resources 27th among corporations emitting airborne pollutants in the United States, the second highest rating behind Duke Energy.
Dominion has a web page citing its ecosystem conservation efforts and contributions.  It earned $15 billion in 2009.  Its main ecosystem project received funding of $500,000 in 2009.
Dominion operates the nation's largest natural gas storage facility with 975 billion cubic feet of storage capacity and serves retail energy customers in 12 states.
For this company's information resources on non-conventional production from coal bed methane and Marcellus shale gas, see the web page, Appalachian Gateway Project.
Includes Landowner's Rights, Source of Supplies, Project Schedule, Environmental Considerations.
East Resources
, , East Resources, (2010)
Shell | Appalachia
The acquisition of East Resources, a Pennsylvania-based oil and gas company, on July 29, 2010, is the foundation for Shell's new operations and growth in the Appalachian Basin. Shell's current Marcellus Shale operations are focused in Tioga County.
On May 28, 2010, Bloomberg.com reported that Royal Dutch Shell Plc agreed to buy closely held East Resources Inc., for about $5 billion.
East Resources will no longer be a U.S. corporation.
This will be the second-biggest oil and gas deal this year, after BP Plc's cash acquisition of deepwater assets from Devon Energy Corp. for $7 billion on March 11, according to Bloomberg data.
Private-equity firm Kohlberg Kravis Roberts & Co. invested $350 million in East Resources 11 months ago, according to the Journal.
Exxon Mobil Corp., the biggest U.S. oil company, agreed in December to buy XTO Energy Inc., the country's largest natural gas producer, for $31 billion to gain control of shale-gas assets. Companies from India's Reliance Industries Ltd. to Japan's Mitsui & Co. are spending billions of dollars on drilling to dislodge natural gas from shale -- sedimentary rock composed of mud, quartz and calcite.
East Resources, Inc. is an independent exploration and development company with more than 1.25 million acres of land holdings. East Resources owns and operates more than 2,500 producing oil and gas wells in New York, Pennsylvania, West Virginia, and Colorado and is actively exploring drilling programs in Wyoming.
On July 2, 2010, ProPublica reported wastewater from a nearby East Resources gas well leaked into a field and came in contact with farm animals resulting in a state-ordered quarantine of 16 cows.
See: A Fracking First in Pennsylvania: Cattle Quarantine
"Tests performed for East Resources Inc., found hazardous chemicals and heavy metals, including chloride, barium and strontium. East did not dispute that a leak had occurred."
Reuters reported that a survey by Pennsylvania Land Trust Association, based on data from state regulators found that East Resources committed the most violations, 138, followed by Chesapeake Appalachia LLC with 118, and the privately held Chief Oil & Gas Corp. with 109.
ecorp USA
, , ecorp Usa, (2010)

eCORP is a Houston, Texas, based multifaceted energy company which, through its subsidiaries, affiliates and related entities, is engaged in the development and operation of natural gas storage facilities, natural gas pipelines, electric power plants, and other energy related facilities.
eCORP and its principals and affiliates have been involved in Stagecoach Natural Gas Storage Facility, Tioga County New York.
The U.S. Department of Energy, Energy Information Administration reported in 2007 that the largest expansion of working gas capacity (13 Bcf) occurred at the Stagecoach natural gas storage site in New York State, a depleted-reservoir facility.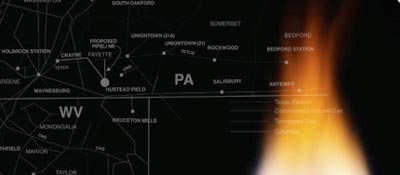 Encana
, , Encana, (2010)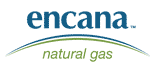 Among the largest natural gas companies in North America, based in Calgary, Alberta.
The Michigan Land Use Institute reported that In 2006 the Colorado Oil and Gas Conservation Commission fined Encana $370,000 for flawed drilling practices. Residents said the drilling contaminated Divide Creek with methane and benzene.
Alan Boras, Encana's spokesman, said in an interview that the leak was "a rare circumstance" caused by flaws in the cement that holds the well casing in place.
"Within less than a week of being alerted, the problem was rectified," Mr. Boras said.
Lisa Bracken, on Journey of the Forsaken, reported on June 30, 2010 that,
"EnCana has recently submitted twenty well permits (with at least twenty more on the horizon) to infill drill in our neighborhood... despite 1) low natural gas prices, despite 2) EnCana suing the state of Colorado over new public safety rules (which are by the way utterly toothless) and which they say are driving them from Colorado; and, 3) despite the persistent, increasing and largely un-investigated presence of leaking hydrocarbon toxins into groundwater and private water wells.
Why the renewed surge in activity? Could be because China is dumping investment dollars into EnCana's bank account to facilitate extraction of gas for export to China?"
See: Natural gas: the commodity world's 'ugly duckling'.
See Lisa Bracken video.
See: Lisa Bracken Website: Journey of the Forsaken.
See: Will Koop. Encana's Cabin Not So Homey: Cumulative Environmental Effects - An Unfolding and Emerging Crisis in Northeastern British Columbis'a Shale Gas Plays. (PDF 13. 4 MB, 58 pp.). November 9, 2010.
An Introductory Journey Into BC's Dirty Domino Zone - Commentary and Recent Photos by Garth Lenz.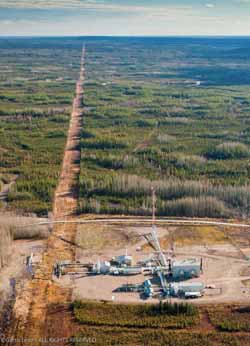 See: Letter written to Vancouver Sun by Fort Nelson First Nation Chief, Kathie Dickie. Dec. 22, 2009. (Koop, p. 21)
Calgary-based EnCana Corporation, Canada's largest gas producer, along with a consortium of seven other oil companies, is planning to build the biggest gas processing plant in North America in the heart of our 1910 treaty territory.
We've been told many things by the B. C government as we've tried to participate in the environmental assessment process. One official said that because our 100-year-old treaty doesn't specifically address clean air, we have no say on clean air when it comes to the construction of the biggest greenhouse gas creator in B.C. Imagine being told by a government official in 2009 that you have no say on the quality of air you or your children breathe! What parent would stand for it?
We understand the value to the province of shale gas development in the Horn River Basin. But such economic development, whether for our community or yours, should not come at the expense of a gutting of the land, water, and air where a community lives.
We are the only Treaty 8 Nation that lives within the Horn River Basin, and this gas plant, designed to open the basin to drilling, pipelines and gas development, will have an immense effect on our rights and interests. Without the capacity to determine and plan for this development, the survival of the Fort Nelson First Nation is in jeopardy. This plant and the development that it brings must not mean the end of us.
Source: Fort Nelson First Nation Chief, Kathie Dickie, Vancouver Sun, December 22, 2009, Premier's climate-change hypocrisy could doom first nation's way of life.
See: Julie Green. "The Game Changer." UpHere Business. June 2010.
...In mid-April, Dickie signed an agreement with Spectra. "It's more than an impact-benefit agreement," says Spectra's Duane Rae. "It formalizes the relationship we already have and talks about how we're going to continue working together." The band is working on similar agreements with TransCanada and EnCana. Dickie has a list of substantial fears about shale development and water is at the top.
Encana Fracking Cake for Kids - A Look Underground
, , YouTube, (2010)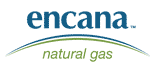 The sweet irony of this video - some things, like fracking, are best expressed with a cake!
A recent company event provided an opportunity for one of our engineers to educate children about natural gas development. Parents and educators often ask us for industry material to use with this audience so we made this video in the spirit of creativity.
What do 11 tubs of icing, more than two dozen cookies and 115 cupcakes have to do with natural gas? A lot, actually, once sculpted into a layer cake that uniquely demonstrates how the clean energy choice is extracted in our operations.
See: Encana | Mixplex.
See: Spectra Energy's "Kids Say [the] Darndest Things About Natural Gas".
Spectra Energy Watch said, "When gas companies send children to defend the industry, it is a sign of desperation."
Spectra Energy's latest 3-minute PR effort in the form of a kiddie video includes a touch of irony. It begins with the kids comparing natural gas to farts, when asked, "What is natural gas?".
The video has been removed by Spectra Energy. We saw it.
Energy in Depth
, , Energy in Depth, (2010)

Energy in Depth is an oil and natural gas industry informational site.
Since June of 2010, this has been the place to read the rebuttal to Josh Fox's documentary Gasland.
"We've spent some time over the past couple months taking a critical look at some of the key assertions made in the HBO documentary Gasland, putting forth in that time two separate rebuttal documents that we believe address in a substantive way a number of the misconceptions upon which the film, and its broader political message, is based.
Read the opposing viewpoints on Energy in Depth as an information source on Sourcewatch Wiki
See: Nora Eisenberg. AlterNet. July 23, 2010. Exposing the Natural Gas Industry's Attempt to Silence Its Critics
Please note that information taken from Wikis should be verified using other, more reliable sources. It is a good place to start research, but because anyone can edit a Wiki, we do not recommend using it in research papers or to obtain highly reliable information.

About Energy in Depth:
"Who We Are: America's natural gas and oil producers – the majority of which are small, independent businesses with less than 12 employees- are committed to strengthening America through the safe, responsible and environmentally-friendly development of domestic energy resources."
See extensive press-releases and archived press-releases reacting to environmental pressure, presenting the arguments of industry in favor of fracking the Marcelus Shale.
Related:
Lee Fuller. "HF 101: As Cornell Begins Study of Shale Gas Exploration, Energy In Depth Offers Itself Up as Resource for Ad Hoc Panel". Energy in Depth.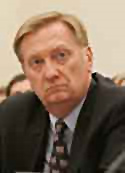 Lee Fuller
Mike Hale. The New York Times. June 21, 2010. The Costs of Natural Gas, Including Flaming Water.
Oral Statement Submitted by Mr. Lee Fuller, Representing Independent Petroleum Association of America (IPAA) and Energy In Depth (EID), 3-28-10. (PDF, 3 pp., 46,255 bytes). Submitted to: EPA Scientific Advisory Board (SAB) Environmental Engineer Committee Hydraulic Fracturing Research Plan Review. 4/7/2010- 4/8/2010. The St Regis, 923 16th Street, NW, Washington DC 20006.
See: Drilling Isn't Safe.
Energy in Depth - SourceWatch
, , SourceWatch, (2010)
"Energy in Depth (EID) is a pro-oil-and-gas drilling industry front group formed by the American Petroleum Institute, the Petroleum Association of America and dozens of additional industry organizations for the purpose of denouncing legislation proposed by Colorado U.S. Rep. Diana DeGette to regulate underground hydraulic fracturing fluids."
"The Center for Media and Democracy (CMD) publishes SourceWatch, this collaborative, specialized encyclopedia of the people, organizations, and issues shaping the public agenda. SourceWatch profiles the activities of front groups, PR spinners, industry-friendly experts, industry-funded organizations, and think tanks trying to manipulate public opinion on behalf of corporations or government. We also highlight key public policies they are trying to affect and provide ways to get involved."
Please note that information taken from Wikis should be verified using other, more reliable sources. It is a good place to start research, but because anyone can edit a Wiki, we do not recommend using it in research papers or to obtain highly reliable information.
EOG Resources
, , EOG Resources, (2010)

From EOG website: EOG Resources, Inc. is one of the largest independent (non-integrated) oil and natural gas companies in the United States with proved reserves in the United States, Canada, Trinidad, the United Kingdom and China. EOG Resources, Inc. is listed on the New York Stock Exchange and is traded under the ticker symbol "EOG."
An EOG blew out in Clearville PA. on June 4, 2010.
From Sourcewatch: On June 4, 2010, a western Pennsylvania natural-gas well owned by EOG Resources Inc. blew out, releasing an undisclosed amount of gas and drilling fluids before being contained about 16 hours later, as reported by the Wall Street Journal and The Boston Globe.
Operators at this site were preparing to extract gas after through [hydrofracking]]. In a press release, the Pennsylvania Department of Environmental Protection stated that it would "aggressively investigate" the Marcellus Shale well blowout and that it would take the "appropriate enforcement action."
"As a result, the well released natural gas and flowback (fracturing) fluid onto the ground and 75 feet into the air," the Pennsylvania Department of Environmental Protection said in the press release. It should be noted that EOG Resources is the new namesake for the company formerly known as Enron.
Exxon Mobil Corporation
, , Exxon Mobil Corporation, (2010)

ExxonMobil. The Lamp. No. 4, 2009. p. 7-8.
Andrew Swiger, Exxon Senior V.P. has said,
"A key question about shale and other unconventional plays will be whether a company has the technology to turn them into profitable opportunities.
Swiger notes that technology advances ExxonMobil has perfected in producing unconventional natural gas from tight-sands formations in Colorado's Piceance Basin should prove advantageous.
ExxonMobil‐XTO Merger:
Read preliminary transcripts of Rex Tillerson, CEO, giving testimony to the House Energy Committee.
ExxonMobil‐XTO Merger: Impact on U.S. Energy Markets Preliminary Transcript of Testimony, House of Representatives, Subcommittee on Energy and Environment, Committee on Energy and Commerce. Wednesday, January 20, 2010. 122 pages.
This merger heralds a fundamental long‐term shift in U.S. energy markets and one that deserves our close attention. Over the last decade, a small group of companies that most Americans have never heard of has been developing huge deposits of natural gas in deep shale formations across America."
-Edward J. Markey (D-MA), Chair of Subcommittee on Energy and the Environment.Tillerson testimony on p. 52.