Press
Editorial - The Halliburton Loophole - NYTimes.com
, , The New York Times, (2009)
New York Times Editorial.  Published: November 2, 2009.
Among the many dubious provisions in the 2005 energy bill was one dubbed the Halliburton loophole, which was inserted at the behest of — you guessed it — then-Vice President Dick Cheney, a former chief executive of Halliburton.
It stripped the Environmental Protection Agency of its authority to regulate a drilling process called hydraulic fracturing. Invented by Halliburton in the 1940s, it involves injecting a mixture of water, sand and chemicals, some of them toxic, into underground rock formations to blast them open and release natural gas.
Hydraulic fracturing has been implicated in a growing number of water pollution cases across the country. It has become especially controversial in New York, where regulators are eager to clear the way for drilling in the New York City watershed, potentially imperiling the city's water supply. Thankfully, the main company involved has now decided not to go ahead.
The safety of the nation's water supply should not have to rely on luck or the public relations talents of the oil and gas industry. Thanks in part to two New Yorkers — Representative Maurice Hinchey and Senator Charles Schumer — Congress last week approved a bill that asks the E.P.A. to conduct a new study on the risks of hydraulic fracturing. An agency study in 2004 whitewashed the industry and was dismissed by experts as superficial and politically motivated. This time Congress is demanding "a transparent, peer-reviewed process."
Editorial - The risks of fracking | Philadelphia Inquirer
, , (2010)

Philadelphia Enquirer editorial. Published: Mar. 22, 2010.
...Representatives of the Marcellus Shale Coalition, an industry trade group, point out that not a single case of groundwater contamination has been linked to their drilling technique, called hydraulic fracturing or "fracking."
It involves pumping up to three million gallons of water (per well), combined with sand and chemicals, more than a mile underground to shatter the rock and release the gas.
But fracking does carry potential risks to the environment. Those concerns are causing government officials elsewhere to proceed cautiously on Marcellus drilling. New York state has imposed a moratorium on Marcellus wells until it completes an environmental-impact assessment.
Editorial: Fiddling while the tap water burns
, , Denton Record Chronicle, Denton County, Texas, (2010)

Let us see if we have this right: The tap water is bubbling in Parker County, carbonated with enough natural gas to make it as flammable as a French Quarter cocktail and as explosive as a hand grenade, and the Texas Railroad Commission — consulting its Advent calendar, no doubt — has scheduled a hearing on the matter for Jan. 10.
No need to spoil the holidays with unpleasant decision-making; we'll just let that gas keep percolating until next month, and hope we don't get a big boom west of Fort Worth to ring in the new year.
If you haven't been reading the recent accounts in the paper, here is what's been going on in Parker County: Residents there reported that their tap water was bubbling. The federal Environmental Protection Agency did tests and determined that the water was contaminated enough by gas to create an imminent threat of fire or explosion. The EPA turned its results over to the railroad commission, which decided to hold a meeting...
See: Bluedaze. "Shale Survival Tools and Medical Information."
See: Sharon Wilson. Dec. 20, 2010. Earth Blog. "EPA's Xmas present to Texas families with drinking water polluted by drilling: cleaner water".
See: Argyle-Bartonville Communities Alliance. Dec. 14, 2010. "Keep Track and Speak Up."

EPA chief faces hostile House GOP
, , Politico, (2011)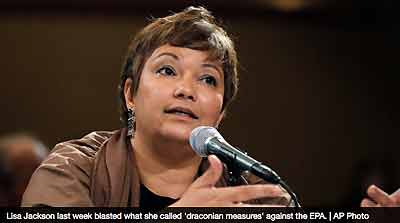 The showdown between House Republicans and the White House over climate change and environmental policies kicks off Wednesday with EPA chief Lisa Jackson as the star witness.
The Energy and Commerce Committee will hold a hearing on legislation floated last week by Chairman Fred Upton (R-Mich.), Rep. Ed Whitfield (R-Ky.) and Sen. Jim Inhofe (R-Okla.) to strip the Environmental Protection Agency of its authority to regulate greenhouse gases under the Clean Air Act.
Jackson last week blasted what she called "draconian measures" aimed at handcuffing her agency, and insisted that the White House would veto legislation to take away its regulatory authority.
"These efforts would halt EPA's common-sense steps under the Clean Air Act to protect Americans from harmful air pollution that until now has not been regulated at all from any sources in this country," she said.
According to the American Journalism Review, Politico is a Washington, D.C. based website and newspaper that focuses on Beltway political coverage, started by veteran Washington Post political reporters John Harris and Jim VandeHei started in January 2007.
See: Glenn Greenwald. May 30, 2008. "The right-wing Politico cesspool". Salon.
I once thought that Politico would be a pernicious new addition to our rotted media culture. Instead, it actually provides a valuable service by packing every destructive and corrupt journalistic attribute, in its most vivid form, into one single cesspool.
See: Republicans ask court to toss climate case
See: Smackdown: climate science vs. climate economics
See: EPA in the Crosshairs | Mixplex
See: Beware The Green Dragon! | Right Wing Watch
See: Energy & Commerce Committee Investigates Potential Impacts of Hydraulic Fracturing
Exxon's Oozing Texas Oil Pits Haunt Residents as XTO Deal Nears - BusinessWeek
, , Bloomberg.com, (2010)

--Editors: Flynn McRoberts, Susan Warren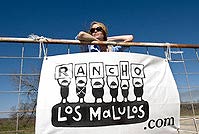 This article examines the lawsuit against Exxon filed by Texas rancher Elizabeth Burns.
See: Rancho Los Malulos | A satirical view from the McGill Brothers Lease
Oil's 'Ugly Side'
"This isn't something the states are proud to advertise," said Philip Dellinger, chief of the groundwater section in the Austin, Texas, office of the Environmental Protection Agency. "It's the ugly side of the oil and gas business."
The EPA says it has no authority to force companies to address contamination on active fields and must defer to Texas regulators, who let oil companies determine if sites need cleanup.
...Pollution from decades-old wells and waste pits isn't isolated to their ranch or Exxon. There are more than 100,000 old wells in Texas that haven't been capped and thousands of defunct gas-processing plants, compressor stations and related equipment that have never been dismantled, according to the Texas Land and Minerals Owners Association, which represents 1,200 ranchers, farmers and individuals who own stakes in oil and gas fields.
Contamination Migrates
The contamination may have migrated from a defunct oilfield on the north end of town, where sludge and other waste from wells was dumped in open dirt pits for decades, said J.T. Garcia, president of the Duval County Conservation and Reclamation District. He doesn't know who operated the field, which stopped pumping crude in the 1970s.
The Burns's ranch, which covers an area equal to the size of Brooklyn, is just one example of the lingering environmental damage across swaths of south, west and east Texas from what were once regarded as acceptable oilfield practices, said Patterson, the commissioner with the Texas General Land Office, which oversees oil leases that help fund the state's schools and universities.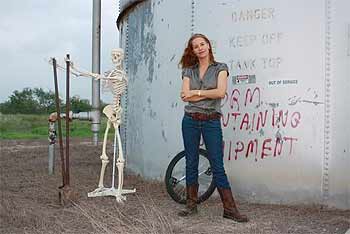 Mrs. Burns | Photo by Sharon Wilson
"They'd just dig a pit and put the oil in it and then they'd haul it off later, or maybe they wouldn't haul it off later, depending on the price of oil at the time," said Patterson. "That was the norm, and nobody said anything about it."
...Although lighter-weight hydrocarbons can degrade naturally in 40 or 50 years, the heavier molecules "are more persistent and pretty toxic," said Gregory Miller, project manager at Icon Environmental Services Inc., a Port Allen, Louisiana-based company that cleans up old oilfields. "You have no idea how bad some of these sites are."
Daunting Task
Patterson said cleaning up a tract as large as the Encinitos Ranch is impossible. Instead, the best solution may be to fence it off and monitor the pollution to ensure it doesn't migrate underground to other ranches...
..."Exxon's walked away from a lot of this stuff they built here, but the evil lurks," said Burns, who had planned to raise organic vegetables when she and her husband moved to the ranch with their sons five years ago. "You'd hope your kids can do something with this land, but now it's worthless."
Flare Up
, , National Post Business Magazine, p.94 - 101, (2002)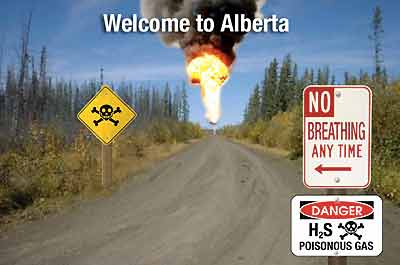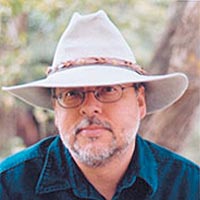 David Beers. "Tar Sands Expert Nikiforuk to Speak at UBC." The Tyee. 2010-09-09.
Tyee writer-in residence will reveal 'Who Regulates Canada's Oil Patch, and for Whom?'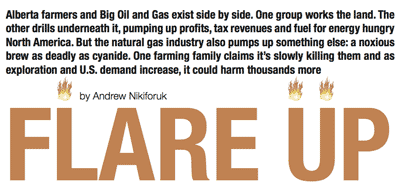 "Sour gas is one of the most dangerous, toxic substances known to man," he said. "Having a sour gas well 800 metres from your home is like having a child molester an in urban community. You never know when things are going to go wrong."
Charlie Smith. "Andrew Nikiforuk: EnCana pipeline attacks are not ecoterrorism." Straight.com. 2008-10-17.
You can read another interview with Nikiforuk about his Tyee project here and find his work, so far, here.
See: The Globe and Mail. "Andrew Nikiforuk wins Rachel Carson medal." July 22, 2009.
See: Society of Environmental Journalists.SEJ's Rachel Carson Environment Book Award."
Former Bush EPA Official Says Fracking Exemption Went Too Far
, , ProPublica, (2011)

When Benjamin Grumbles was assistant administrator for water at the Environmental Protection Agency in the George W. Bush administration, he oversaw the release of a 2004 EPA report that determined that hydraulic fracturing was safe for drinking water. Then he watched as Congress used those findings to bolster the case for passing a law that prohibited the EPA from regulating fracking under the Safe Drinking Water Act.
In two interviews with ProPublica -- the first on June 29, 2009, soon after he left the EPA, and the second on March 5, 2011 -- Grumbles ponders the criticism leveled at the 2004 study and suggests that it's now time for Congress and the EPA to take another look at hydraulic fracturing. Our questions, and his answers, have been combined and edited for length to the version you see here.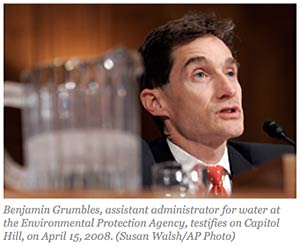 Grumbles is currently on the board of the Clean Water America Alliance, a group focusing on water sustainability issues. He has also served as head of Arizona's Department of Environmental Quality.
Fort Worth Weekly: Perilous Profits
, , Fort Worth Weekly, (2007)

Tempers and dangers are ramping up in the gas field we call home.
"Ah, for the good old days in the springtime of the Barnett Shale boom, when the words "royalty check" were enough to get homeowners to sign away their mineral rights and everyone still thought the 3 a.m. screech of drilling equipment was just the sound of money.
When no one thought that wells could possibly send property values tumbling or turn well water brown, before drilling sites and pipelines had started leaking, burping, and blowing up. When there were no neighborhood groups ganging up to demand higher royalties, tighter controls, or — say it ain't so — trying to stop wells outright...
...Even gas company officials admit that the boom is drawing more and more inexperienced workers to drilling sites. "Veteran crews are being divided up and filled with people who have no experience whatsoever working rigs, laying pipe, and such," said pipeline company manager Jerry Holsworth.
And so accidents are increasing. At least two people have been killed in Barnett Shale operations thus far.
Frack Fluid Spill in Dimock Contaminates Stream, Killing Fish - ProPublica
, , ProPublica, (2009)

Pennsylvania environment officials are racing to clean up as much as 8,000 gallons of dangerous drilling fluids after a series of spills at a natural gas production site near the town of Dimock last week...
...The incident is the latest in a series of environmental problems connected to Cabot's drilling in the Dimock area. Last winter, drinking water in several area homes was found to contain metals and methane gas that state officials determined leaked underground from Cabot wells. And in the spring, the company was fined for several other spills, including an 800-gallon diesel spill from a truck that overturned.
Site includes extensive background information.
Frack-titious Debate: How Social Media and Deep Pockets Affect the Gas Drilling Argument
, , Syracuse New Times, p.14 - 15, (2010)

Flash format article featuring accounts of local communities confronting life with gas drilling and how real local jobs are not being created without community pressure, despite industry claims about job creation.