Legal
High court could melt climate-change cases
, , The National Law Journal | Law.com, (2010)

Perched on an Alaskan barrier island, the village of Kivalina faces imminent destruction because of melting sea ice.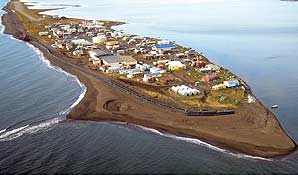 Kivalina, Alaska, has sued energy companies over
melting sea ice that threatens the town.
AP Photo/Northwest Arctic Borough
Now, the community's legal effort — which pins the blame on energy companies for the change in climate — is in danger as well. So, too, is a pair of high-profile climate-change suits that may be taken up by the U.S. Supreme Court, one involving an effort by Connecticut and other states to reduce greenhouse-gas emissions, the other stemming from Hurricane Katrina.
See: Greenhouse Gas Emissions Case Heads to Supreme Court.
See: SCOTUS (Supreme Court of the United States) Blog.
All three suits rely upon the theory that climate change is a public nuisance and, therefore, state and local governments, as well as individuals who have been harmed, can sue for damages or injunctions. The Obama administration, in a recently filed brief in the Connecticut case, American Electric Power v. Connecticut, is arguing that it may not be prudent for the high court to allow these types of cases to go forward.
If the justices grant review, the stage could be set for reversal of a rare, recent high court victory for environmentalists, the 2007 decision in Massachusetts v. Environmental Protection Agency. The 5-4 ruling in the Massachusetts case found a special standing to sue for states that brought that first global-warming case to the Supreme Court. The majority also held that the Environmental Protection Agency (EPA) had authority under the Clean Air Act to regulate greenhouse-gas emissions.
"If the solicitor general gets the Court to take cert, I would be very confident they're going to undercut Massachusetts v. EPA," said environmental scholar Randall Abate of Florida A&M University College of Law. "The sooner the Court gets to revisit it, the more likely it will be gutted. The trend has been to be more restrictive on standing. This is really making the environmental community nervous and angry."
The Katrina-related case — In re Ned Comer — is also at the Supreme Court but is coming to justices in an unusual fashion — through a petition for a writ of mandamus. The Alaska case — Native Village of Kivalina v. Exxon Mobil Corp. — is undergoing briefing in the U.S. Court of Appeals for the 9th Circuit.

"Each case has its legal strong points and each has its legal vulnerabilities," said James May of Widener University School of Law, who has filed amicus briefs on behalf of environmental law professors in the Connecticut and Kivalina cases.
"As a federal litigator for 15 years and a law professor for 20, what I find concerning is the executive branch stepping in front of states and private litigants who are trying to get their day in court. If this was the Bush administration doing this, I think it would be a very divisive political issue."
...The energy companies' case is now stronger because of the EPA's actions and the solicitor general's brief, he said. "I don't know if it gets you there finally. If I was writing plaintiffs' briefs, I would be pounding the table and saying, `If you're telling me this is a political question, the political arm to deal with this is Congress and they have done nothing.' "

Which is exactly what Pawa, who represents three land trusts in the Connecticut case as well as the Kivalina villagers, said. "The solicitor general's brief is not very damaging because it was unpersuasive," Pawa said. "It's just wrong. It tries to repackage the political-question doctrine, which was thoroughly dealt with on its merits by the 2d Circuit, as prudential standing.
"And, there are no federal regulations applicable to existing coal-fired power plants. They haven't even been proposed. There have been some rules proposed for new plants, but no rules for existing plants, which are at issue in these lawsuits."
In looking at the various iterations of climate-change litigation, the most "evolved" of the three cases is Kivalina, according to Jones and others, and the one that worried most corporate defendants. "It contained a conspiracy count, which is what the plaintiffs' bar hoped would get them money damages," Jones said. "And it has more sympathetic and real plaintiffs than the other cases. Here you have a particular village that is going to be under water."
Kivalina from Cristina Valdivieso + Jon Connor on Vimeo.
Various scientific and government studies report that the right combination of storms could flood the entire village at any time and have recommended relocation at costs varying up to $400 million.
If the Court does not act on Connecticut or Comer, Jones said, "I think Kivalina will go forward. I think that one could end up being the most dangerous of any of them. But getting into court is one thing; proving causation is a very hard row to hoe."
See: Shearer, Christine. "My Journey Into Kivalina v. ExxonMobil et al." Countercurrents. Dec. 1, 2010.
See also: Shearer, Christine. Kivalina: A Climate Change Story. Haymarket Books, 2011. Print.
History of Litigation Concerning Hydraulic Fracturing to Produce Coalbed Methane. LEAF (Legal Environmental Assistance Foundation) and The Hydraulic Fracturing Decisions.
, , (2009)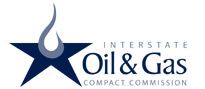 This paper reviews the history of litigation concerning hydraulic fracturing.
LEAF Petitions EPA to Withdraw Primacy—1994
In 1994, an organization known as Legal Environmental Assistance Foundation (hereinafter referred to as "LEAF") petitioned EPA to initiate proceedings to withdraw approval of the Alabama UIC program.
LEAF alleged that the Alabama program was deficient because it did not regulate hydraulic fracturing activities associated with coalbed methane gas production and the federal Safe Drinking Water Act (hereinafter referred to as "SDWA").
LEAF further alleged that the SDWA required regulation under federal guidelines over hydraulic fracturing operations. In 1995, EPA denied the petition because it determined that hydraulic fracturing did not fall within the definition of "underground injection" under the SDWA.
EPA had concluded that methane gas production wells, which are also used for hydraulic fracturing of the coalbeds, are not required to be regulated under the SDWA because the principal function of these wells is not the underground emplacement of fluids; their principal function is to produce coalbed methane gas.
See: IADC. "Alabama lawsuit poses threat to hydraulic fracturing across U.S." Drilling Contractor. Jan/Feb. 2000.
See: Affirming Gasland
IQS (Info Quick Solutions, Inc.) - Search Cortland County
, , Cortland County: Search Public Records, (2010)

Elizabeth Larkin, Cortland County Clerk. You can search Land Records at the Cortland County Clerk's Office online and read the full-text of lease documents and see if your neighbors have already signed gas leases.
Instructions
Click "Search Land Records". On the next page, just click "Log In", you do not need a password. On the next page, click "I accept".
On the next page, uncheck "Ignore party type when search for name"; change the dates if you wish, choose "Document Type: Lease" from the drop-down menu.
Next to the field that says "Town", use the pull-down menu to pull down your town and then click the search button at the top right of the page. You can also try variations.
Landman Report Card
, , Landman Report Card, (2010)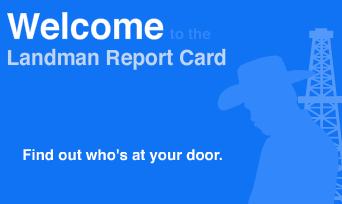 About the Landman Report Card
A landman is an agent that represents oil & gas companies in negotiations with landowners: their job is to get the best terms for the company. This interaction is perhaps one of the most important elements of the oil and gas exploration and extraction process.
Though many landmen sign onto and abide by codes of ethics, some landowners have accounts of landman dishonesty and misbehavior. Landowners are particularly vulnerable to misinformation at this moment as it is often the first time that they make contact with the oil and gas industry. The Landman Report Card was started to assist landowners in this tricky process by allowing landowners to educate and assist each other.
This site provides tools to learn about landmen and their companies through reading reviews submitted by users. It also allows users to submit their own report cards, contact other users and use the site as their own private diary of interactions with this industry.
The Landman Report Card is produced by the ExtrAct group at MIT in collaboration with citizens' alliances in Colorado, New Mexico, Ohio and West Virginia as well as the Oil and Gas Accountability Project. ExtrACT is funded by MIT's Center for Future Civic Media, a research group dedicated to developing novel web-based technologies for citizen journalism.
To get in touch with the ExtrAct team, email us at extract@media.mit.edu.
Lawsuit against government, Encana highlights 'fracking' environmental issues: Lawyer
, , Calgary Herald, (2011)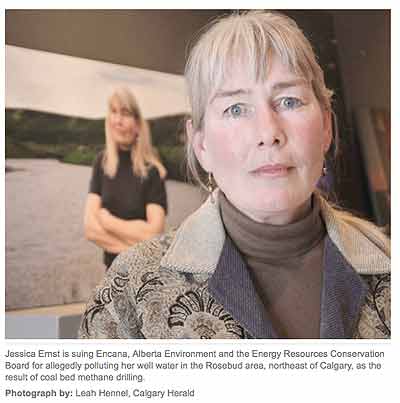 The lawyer leading a $33-million lawsuit against Encana, the Alberta government and the province's energy regulator says the case speaks to broader environmental concerns across North America about fracking.
"It's very much the same issues all over," said Murray Klippenstein, a Toronto-based litigator.
Klippenstein is representing landowner Jessica Ernst, who has long argued that coal bed methane drilling around her Rosebud-area home northeast of Calgary has resulted in the pollution of her well water.
"The hydraulic fracturing issues that Jessica raises in her lawsuit are coming up more and more publicly, with more and more concerns, not only in Alberta, but in B.C. and Quebec, and all over the United States," he said.
A lawsuit filed in Drumheller last week alleges Encana, Alberta Environment and the Energy Resources Conservation Board are all responsible for damages. She claims the natural gas giant for faulty drilling practices, and the government and board for failing to properly investigate or enforce the province's environmental rules.
Ernst is demanding more than $10 million from each.
See: New Lawsuit Filed in Fracking Country
See: Pennsylvania lawsuit says drilling polluted water
See: History of Litigation Concerning Hydraulic Fracturing to Produce Coalbed Methane. LEAF (Legal Environmental Assistance Foundation) and The Hydraulic Fracturing Decisions.
See: Affirming Gasland
See: Breaking news: EPA vetoes Spruce Mine permit
See: The Effect of the United States Supreme Court's Eleventh Amendment Jurisprudence on Clean Water Act Citizen Suits: Muddied Waters
See: WATER: Rulings Restrict Clean Water Act, Foiling E.P.A.
Marcellus Shale Development : Toxic Tort Litigation Blog
, , Toxic Tort Litigation Blog, (2010)

Posted on January 15, 2010 by William A. Ruskin.
"Is DEC Ill-Equipped to Oversee Marcellus Shale Natural Gas Drilling?"
"According to a report issued by Cornell Law School, the State of New York's blueprint for Marcellus Shale development proposes 187 new regulatory activities necessary for the oversight of natural gas drilling, but the blueprint does not explain how DEC will carry out these activities."
Marcellus-Shale.us: Our look at the Halliburton Loophole - 2005 Energy Act
, , Marcellus-Shale.us, (2010)

Marcellus-Shale.us. 2019-2010. Website. Pennsylvania.
Key paragraphs from the
ENERGY POLICY ACT OF 2005
Includes photographs of fracking trucks.
See: Marcellus Shale gas drilling - Photos of Marcellus Shale gas wells in Pennsylvania at marcellus-shale.us
See press release, U.S. Environmental Protection Agency (EPA): EPA Announces "Eyes on Drilling" Tipline.
MarcellusGas.Org Home Page
, , MarcellusGas.Org, (2011)

Extensive and thorough source of information on Marcellus Shale gas drilling in Pennsylvania. Non-members have limited access to some of the county and township specific information provided on well data, maps, production reports, violations, and company details. There is an option to become a guest member.
marcellusgas.org is located in Montrose, PA and can be contacted at 570-278-1994
There is an email contact form here.

About MarcellusGas.Org
The MarcellusGas.Org website was created to provide easy-to-access information pertaining to Marcellus gas wells being drilled in Pennsysylvania. The site was launched in September of 2010, with plans to substantially expand the information available in upcoming months.
MarcellusGas.Org welcomes and encourages comments, opinions, and suggestions. Please send your comments, and let us know what you think. Use our Contact MarcellusGas.Org form to send us your thoughts.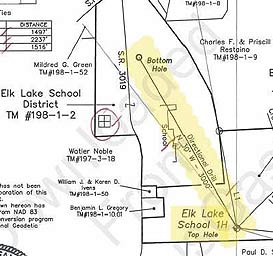 Sample Map showing horizontal directional drill located directly under the Elk Lake School in Dimock, PA. Find articles on Dimock, PA on Mixplex.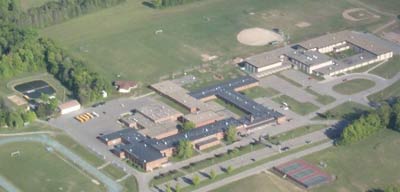 Mobilize to End Mountantop Removal!
, , Appalachia Rising, (2010)

Join us on September 25-27 in Washington, DC for Appalachia Rising!, a national response to the unmitigated destruction of Appalachia's mountains, air and water through mountaintop removal coal mining. Appalachia Rising! will follow a long history of action for a just and prosperous Appalachia.
Appalachia Rising, an event which will take place in Washington DC, September 25-27, 2010 is a national response to the poisoning of America's water supply, the destruction of Appalachia's mountains, head water source streams, and communities through mountaintop removal coal mining. It follows a long history of social action for a just and sustainable Appalachia.
Appalachia Rising strives to unite coalfield residents, grass roots groups, individuals, and national organizations to call for the abolition of mountaintop removal coal mining and demand that America's water be protected from all forms of surface mining.
Appalachia Rising -building community/labor alliances from Anne Lewis on Vimeo.
See: Appalachia Rising: 100 Arrested at White House Calling for End to Mountaintop Coal Removal on Democracy Now!
Mountaintop Removal
, , Haw River Films | IMDB, (2007)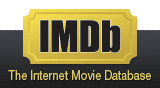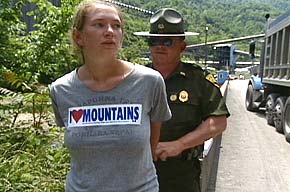 Michael C. O'Connell reveals how strip-mining in West Virginia is impacting local communities in the heart of coal-mining country.

While the demolition of the ancient mountain tops alters the state's natural landscape, the transportation of the mountain debris to adjacent valleys is creeping into natural resources used by area residents.
Filmed over a two-year period, Mountain Top Removal features citizen activists, such as Ed Wiley, Larry Gibson, Julia Bonds, Maria Gunnoe, and Mountain Justice Summer volunteers, in their efforts to stop the destruction of Southern Appalachia's natural landscape.
The film also includes commentary from Jeff Goodell, author of Big Coal: The Dirty Secret Behind America's Energy Future, geologists Dr. William Schlesinger and Dr. Peter Taft from Duke University's Nicholas School of the Environment and Earth Sciences, and also Bill Raney, President of the West Virginia Coal Association.
See: Mike Roselle clip 2-from the Southern Regional Jail West Virginia
See: Code Black: Coal's Assault on America's Health Campaign | PSR
See: Marsh Fork Elementary: Journey Up Coal River | A Community and Strip Mining
See: Two held on $100,000 bails for non-violent protest; Demand Bail Reduction: Call Magistrate Snodgrass 304-369-7360