iLoveMountains
Publication Type:
Web Article
Source:
iLoveMountains.org -- End Mountaintop Removal Coal Mining (2011)
URL:
http://www.ilovemountains.org/
Keywords:
opinion
Notes:

Organization web site features a widget that shows how you are connected to mountaintop removal where you live.
You Can End Mountaintop Removal.
Mountaintop removal is a radical form of coal mining in which entire mountains are literally blown up -- and it is happening here in America on a scale that is almost unimaginable.
Please take a moment to learn more about mountaintop removal mining -- and then join us by taking action to stop it.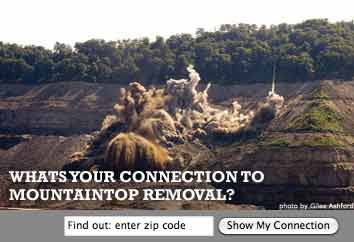 See: Welcome to Rogers Neighborhood | House Passes Dangerous Budget in the Dark of Night
See: GOP Budget Amendments Would Destroy Health, Economy, Planet.
See: Michael Cusack O'Connell. (film). Mountaintop Removal.