A Colossal Fracking Mess
, , Vanity Fair | Business, (2010)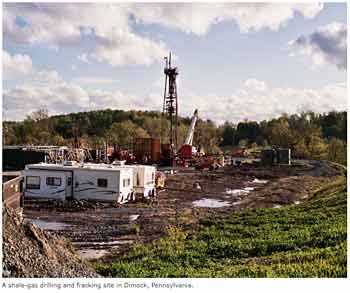 Photographs by Jacques del Conte
More than 15 million people, including residents of New York City and Philadelphia, get their water from its pristine watershed.
To regard its unspoiled beauty on a spring morning, you might be led to believe that the river is safely off limits from the destructive effects of industrialization. Unfortunately, you'd be mistaken.
The Delaware is now the most endangered river in the country, according to the conservation group American Rivers.
A V.F. video look at a town transformed by fracking.
That's because large swaths of land—private and public—in the watershed have been leased to energy companies eager to drill for natural gas here using a controversial, poorly understood technique called hydraulic fracturing. "Fracking," as it's colloquially known, involves injecting millions of gallons of water, sand, and chemicals, many of them toxic, into the earth at high pressures to break up rock formations and release natural gas trapped inside.
Sixty miles west of Damascus, the town of Dimock, population 1,400, makes all too clear the dangers posed by hydraulic fracturing. You don't need to drive around Dimock long to notice how the rolling hills and farmland of this Appalachian town are scarred by barren, square-shaped clearings, jagged, newly constructed roads with 18-wheelers driving up and down them, and colorful freight containers labeled "residual waste."
See: Dimock Natural Gas Drilling.
See: Cabot Oil & Gas.
See: Dark Side of a Natural Gas Boom.
See: Before/After Drilling (video).