Toxic Waste: Hazardously Sour Candy Recall
, , Examiner.com, (2011)

A chewy candy bar with the ironic name Toxic Waste Nuclear Sludge has been recalled due to concerns that the bars contain elevated levels of lead. Here is the press release from the U.S. Food and Drug Administration. No this is not a Yes Men art work.
Candy Dynamics, distributors of Toxic Waste® Nuclear Sludge® chew bars, has issued a recall of all lots, sizes and flavors of Nuclear Sludge® due to levels of lead that exceed the FDA standard. In addition, the company is discontinuing Nuclear Sludge®. Click here for more information.
Maureen Reilly of the Canadian listserv Sludge Watch commented:
The Toxic Waste candy that was recalled had only 0.24 ppm lead.
The EPA allows 400 ppm lead in children's play soil.
And the EPA even allowed sewage sludge compost containing 237 ppm lead (that's 1000 times more than the level in the candy) to be spread on childrens bare soil yards for poor black families in Baltimore.
The candy producer had the decency to call the candy Toxic Waste....unlike the sludge industry which calls its stuff that is 1000 times more contaminated: Beneficial Use Biosolids Organic Compost. (see Sourcewatch article).
The EPA should order a recall of this very real toxic sludge ...
Maureen Reilly (commenting on Howard Portnoy. "Alert: "Toxic Waste" candy recalled due to fears of lead contamination." Examiner.com. Jan. 17, 2011.
See: Organic Consumers Association. "Toxic sludge is good for you?". 2010.
See: Stauber, John, and Sheldon Rampton. Toxic Sludge is Good For You: Lies, Damn Lies and the Public Relations Industry. Common Courage Press, 2002. Print.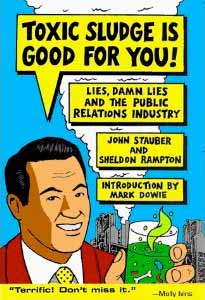 See: Patrick Trahey. "Sewage Sludge Everlasting." In These Times. April 19, 2010.
See: Maureen Reilly comments on Huffington Post.
See: Tox Town - Home Page - Environmental health concerns and toxic chemicals where you live, work and play.