Coal River
, , (2008)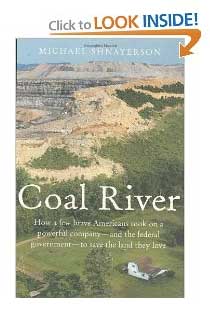 From Publishers Weekly
Through vivid first-person reporting and a thorough culling of court transcripts, newspaper clippings and corporate reports, Vanity Fair contributing editor Shnayerson (The Killers Within) has crafted an incriminating indictment of the Appalachian King Coal industry in West Virginia, and of the man he defines as its rapacious kingpin, Massey Energy's CEO, Don Blankenship.
The author's sympathies lie clearly with opponents of mountaintop mining, most prominently young attorney Joe Lovett and citizen activist Judy Bonds. Both have fought against a form of mining that shears off the tops of hills and dumps rubble into valleys and streams—a process abetted by the collusion of the state's often-lackadaisical Department of Environmental Protection, the U.S. Army Corps of Engineers' propensity to grant stream-destroying permits without oversight and the easing of environmental controls by the Bush administration.
Shnayerson's compelling take on toxic mining methods and their heartrending impact on Appalachian inhabitants and their culture, has a wider focus than Erik Reece's 2006 title, Lost Mountain, which reported on one mountaintop's destruction, and strong echoes of the stomach-churning legal machinations recounted in Jonathan Harr's 1995 bestseller, A Civil Action.
See: Michael Shnayerson web page.
See: Marsh Fork Elementary: Journey Up Coal River | A Community and Strip Mining
See: WATER | Aurora Lights. Public Health & Coal Slurry - Water Quality ::: Journey Up Coal River
See: Tree spiker : from Earth First! to lowbagging: my struggles in radical environmental action
See: Leveling Appalachia: The Legacy of Mountaintop Removal Mining
See: Environmental Issues and Challenges in Coal Bed Methane Production
See: Climate Ground Zero
See: Mountaintop Removal
See: Crimes against nature: how George W. Bush and his corporate pals are plundering the country and high-jacking our democracy