WATER: Gas drilling in huge Appalachia reserve yields foul, briny byproduct - AP
, , cleveland.com, Morgantown, West Virginia, (2010)
February 02, 2010. Cleveland Plain Dealer.
A drilling technique that is beginning to unlock staggering quantities of natural gas underneath Appalachia also yields a troubling byproduct: powerfully briny wastewater that can kill fish and give tap water a foul taste and odor.
With fortunes, water quality and cheap energy hanging in the balance, exploration companies, scientists and entrepreneurs are scrambling for an economical way to recycle the wastewater.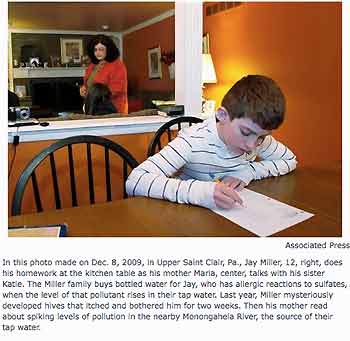 The Miller family buys bottled water for Jay, who has allergic reactions to sulfates, when the level of that pollutant rises in their tap water. Last year, Miller mysteriously developed hives that itched and bothered him for two weeks. Then his mother read about spiking levels of pollution in the nearby Monongahela River, the source of their tap water.
See: Urbina, Ian. "Regulation Is Lax for Water From Gas Wells." The New York Times 26 Feb. 2011. Web. 27 Feb. 2011.
See: With Natural Gas Drilling Boom, Pennsylvania Faces an Onslaught of Wastewater
See: Do the natural gas industry's surface water withdrawals pose a health risk?