Energy & Commerce Committee Investigates Potential Impacts of Hydraulic Fracturing
, , U.S. Congress. Committee On Energy and Commerce, (2010)


There are now two websites for the House Energy and Commerce Committee- one for the Republicans and one for the Democrats. For citizens in the U.S., we are still living a Reaganesque "con", an obvious "tell" that Washington is more broken and redundant than ever.
In the David Mamet film, House of Games | Human Nature is a Sucker Bet (1987), Mike and his men [pulling a con job on Margaret] ...see that the jig is up, and nonchalantly pack up the con. Mike apologizes, saying it was "only business … nothing personal." Margaret puts the pieces together. She spies on the con men--among whom is the "dead" cop/mark--and confirms that everything was a ruse to swindle her out of $80,000...
...Margaret pulls out her gun and dares Mike to beg for his life. He refuses and she shoots him repeatedly until he dies.
Much later, we see that Margaret has gone on with her life, a changed woman, now able to "forgive herself." She shows no sign of guilt or remorse for murdering Mike. She steals a gold lighter out of the purse of another woman in a restaurant and relishes the acquisition.
The energy business and its minions are fighting an undeclared war on the EPA, The Clean Water Act and public saftey. We are all being dragged into this con job. Their argument: the Clean Water Act does not directly address groundwater contamination. Groundwater protection provisions are included in the Safe Drinking Water Act, Resource Conservation and Recovery Act and the Superfund act.
Sounds redundant to me... just give me a cool drink of water 'fore i diiie. (Neil Zusman, 2011-02-02.)
Angelou chose "Just Give Me a Cool Drink of Water 'fore I Diiie" as the book's title because of her interest in "unconscious innocence," which she says is "even lovelier than trying to remain innocent." The title is a reference to her belief that "we as individuals ... are still so innocent that we think if we asked our murderer just before he puts the final wrench upon the throat, 'Would you please give me a cool drink of water?' and he would do so."Angelou has said that, if she "didn't believe that, [she] wouldn't get up in the morning." (Angelou, Maya; Elliot, Jeffrey M. (1989), Conversations with Maya Angelou, University Press of Mississippi, ISBN 0-87805-361-1.)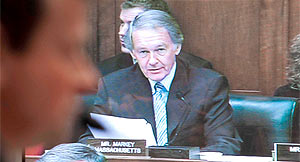 Rep. Edward Markey
Update February 2, 2011
See: Andrew Schenkel. "Fracking finger-pointing starts as drinking water violations roll in." Mother Nature Network. 2011-02-01.
A report linking the fracking industry to violations of the Safe Drinking water Act is putting the biggest names in the fracking industry on the defensive. Democrats in the House Energy and Commerce Committee released a report on Monday (2011-01-31) that claims 12 companies in several states dumped more than 30 million gallons of diesel fuel as part of a scheme to extract natural gas from underground space.
See: Tom Zeller Jr. "Diesel Use in Gas Drilling Cited as Violation of Safe-Water Law." NYT. 2011-02-01.
No permits for diesel-based fracking have been sought or granted since the Safe Drinking Water Act was amended in 2005.
Lee Fuller, a vice president for government relations with the Independent Petroleum Association of America, said that was because the E.P.A. had never followed up by creating rules and procedures for obtaining such permits and submitting them for public comment.
The agency did quietly update its Web site last summer with language suggesting that fracking with diesel was, indeed, covered as part of the underground injection program, which would suggest that permits should have been obtained. But Mr. Fuller's organization, along with the U.S. Oil and Gas Association, has gone to court to challenge the Web posting, arguing that it amounted to new rule-making that circumvented administrative requirements for notice and public commentary.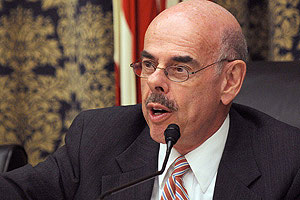 Rep. Henry Waxman
Thursday, February 18, 2010. "Chairman Henry A. Waxman and Subcommittee Chairman Edward Markey today sent letters to eight oil and gas companies that use hydraulic fracturing to extract oil and natural gas from unconventional sources in the United States. The Committee is requesting information on the chemicals used in fracturing fluids and the potential impact of the practice on the environment and human health."
As Chairman of the Committee on Oversight and Government Reform in the last Congress, Rep. Waxman requested and received information from the largest hydraulic fracturing companies - Halliburton, BJ Services, and Schlumberger - on the chemicals used in their fracturing fluids.
According to this data, two of these companies used diesel fuel in their fracturing fluids between 2005 and 2007, potentially violating a voluntary agreement with EPA to cease using diesel. Halliburton reported using more than 807,000 gallons of seven diesel-based fluids. BJ Services reported using 2,500 gallons of diesel-based fluids in several fracturing jobs. Halliburton and BJ Services also indicated that they used other chemicals - such as benzene, toluene, ethylbenzene, and xylene - that could pose environmental risks in their fracturing fluids.
Today Chairmen Waxman and Markey sent letters seeking additional information from Halliburton, BJ Services, and Schlumberger on these and related issues. The Chairmen requested similar information from five smaller fracturing companies that comprise a growing share of the market: Frac Tech Services, Superior Well Services, Universal Well Services, Sanjel Corporation, and Calfrac Well Services. In addition, the Chairmen sent a memo to Members of the Subcommittee on Energy and Environment detailing the background on the issue, including EPA's recent work on hydraulic fracturing, the Committee on Oversight and Government Reform's investigative findings, and the need for additional oversight and investigation."
Documents included: Examining the Potential Impact of Hydraulic Fracturing, Feburary 18, 2010
Letter to Andrew Gould
Letter to Roger Willis
Letter to David J. Lesar
Letter to Douglas R. Ramsay
Letter to Darin MacDonald
Letter to J.W. Stewart
Letter to Dan Wilks
Letter to David E. Wallace
See: Sabrina Shankman. "Congress Launches Investigation Into Gas Drilling Practices." ProPublica. 2010-02-19.
See: Abrahm Lustgarten. "Clearing the Air on ProPublica's Drilling Pollution Story." ProPublica. 2011-01-31
See: Candice O'Grady. "Newsweek Greenwashes the Oil Lobby for Real." FAIR. Feb. 2010.
See: Committee Democrats Release New Report Detailing Hydraulic Fracturing Products
See: House committee votes to deny climate change
See: Action Center | Republicans for Environmental Protection (REP America)