Strong Push Against Fracking
Publication Type:
Web Article
Source:
New York State Senate | Liz Krueger (2011)
URL:
http://www.nysenate.gov/news/strong-push-against-fracking
Keywords:
government
Notes:

On the day of a large rally outside the Capitol, Senate Democrats introduced the first significant legislation against hydraulic fracturing since the 2010 moratorium imposed by former Gov. David Paterson and the Department of Environmental Conservation.
Sens. Tony Avella, D-Whitestone, Liz Krueger, D-Manhattan, and Joseph Addabbo, D-Queens, introduced a package of bills April 11 that includes three bills for tighter regulations and transparency for oil and gas drilling and a bill by Avella to ban hydraulic fracturing, or hydrofracking, in New York State.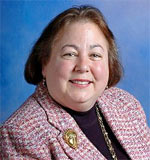 "I don't see it as that great of a request to require these gas companies to inform the public on what chemicals they're blasting into the Earth," said Krueger. "They want us to just fall in line and not ask any questions, to just trust them. Well, we saw what they did with Pennsylvania's trust, and I say no."
She was referring to a lawsuit filed by 31 Pennsylvania residents against the Southwest Energy Co. accusing the company of contaminating their water supplies for drinking, cooking and bathing with hazardous chemicals and pollutants as a result of hydrofracking.
Krueger's bill (S.425) would prohibit the use of fracking fluids "containing chemicals that pose a risk to human health." Also in the package is S.4251-a, a bill sponsored by Addabbo, that would require treatment facilities to test waste from hydraulic fracturing operations for radioactivity. The Assembly bill (A.2922) is sponsored by Robert Sweeney, D-Babylon...
See: New York State Assembly Passes Moratorium on Hydrofracking | Governor Vetoes Bill