Greenhouse Gas Emissions Case Heads to Supreme Court
Publication Type:
Web Article
Source:
Inside Counsel (2011)
URL:
http://www.insidecounsel.com/Issues/2011/April-2011/Pages/Greenhouse-Gas-Emissions-Case-Heads-to-Supreme-Court.aspx#
Keywords:
legal
Notes:



Plaintiffs in Connecticut v. American Electric Power allege that six utilities' emissions are a public nuisance.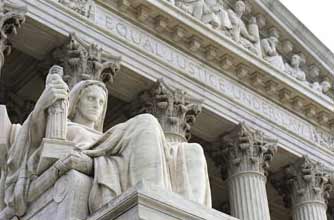 U.S. Supreme Court Monthly Argument Calendar. Tuesday, April 19, 2011. 10-174. AMERICAN ELECTRIC POWER CO. V. CONNECTICUT.
See: SCOTUS (Supreme Court of the United States) Blog.
In the seemingly endless climate change debate, the regulation of greenhouse gases (GHGs) is a contentious issue among scientists, advocacy groups, lawmakers and businesses. Opinions are strong and varied as to how GHG emissions affect the environment and to what extent they should be controlled.
In 2004, a group comprising eight states, New York City and three non-profits sued six GHG-emitting electric power corporations—American Electric Power Company, American Electric Power Service Corporation, Cinergy Corporation, Southern Company, Tennessee Valley Authority and XCEL Energy—for allegedly contributing to global warming. The plaintiffs in Connecticut v. American Electric Power claimed the utilities' carbon dioxide (CO2) emissions were a public nuisance causing an array of environmental and personal injuries, including smog-induced respiratory problems; deaths related to prolonged heat waves; property-damaging floods; a decrease in mountain snowpack, a key water source for California; beach erosion from rising sea levels; and loss of biodiversity.
Arguing the utilities' CO2 emissions constitute 10 percent of the U.S.'s total CO2 emissions, the plaintiffs sought injunctive relief that would hold the defendants jointly and severally liable for causing a public nuisance, cap the utilities' emissions and require them to reduce emissions by a certain percentage annually for at least 10 years.
A trial court dismissed Connecticut v. AEP, saying it presented political questions that "are not the proper domain of judges" and that the "scope and magnitude of the relief Plaintiffs seek reveals the transcendently legislative nature of this litigation."
But on appeal, the 2nd Circuit allowed the plaintiffs' nuisance claims to proceed. When the appeals court denied the defendants' petition for en banc review, the utilities filed a petition for certiorari, which the Supreme Court granted on Dec. 6, 2010.
"This case had to come to the high court," says Patrick Raher, a partner in Hogan Lovells' environmental group. The Supreme Court must make it clear that the legal system has no business creating CO2 policies, he says.
See: New climate change case headed to Supreme Court. AP. April 18, 2011.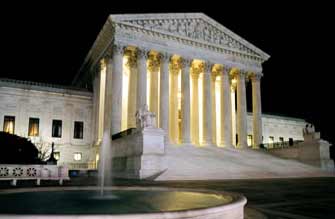 Proceedings and Orders | American Electric Power Company Inc., et al., Petitioners v. Connecticut, et al. August 4, 2010.
The Obama administration, in a recently filed brief in the Connecticut case, American Electric Power v. Connecticut, is arguing that it may not be prudent for the high court to allow these types of cases to go forward. (Coyle, 2010)
"If the plaintiffs can tag utilities for CO2 liability, the damages are potentially staggering," says McCarter & English Partner Wylie Donald, co-chair of the firm's Climate Change and Renewable Energy Practice.
Allen Kacenjar, a principal in Squire Sanders' Global Climate Change Practice, says Connecticut v. AEP has serious implications for companies with GHG-emitting facilities. "What's at stake is whether the federal courts will basically become a clearinghouse for climate change tort actions," he says.
The Supreme Court will hear arguments on April 19, and justices will then attempt to answer the case's crucial question: Can courts regulate GHG emissions in the absence of comprehensive climate change legislation?

See: Google Scholar Search on this case.

In 2009, the U.S. Court of Appeals for the Second Circuit upheld the states' right to bring this lawsuit. The power companies appealed the case to the Supreme Court, which will hear arguments on April 19, and is expected to decide the case by July.
Attorney General Schneiderman is vigorously defending the appeals court's ruling to protect New Yorkers from the harms caused by climate change. These harms include causing asthma and other respiratory diseases, eroding beaches and inundating properties on Long Island, increasing heat-related deaths in New York City, lowering water levels in the Great Lakes that harm the shipping industry, and killing off hardwood forests in the Adirondacks.
See: New York State Office of the Attorney General. "A.G. Schneiderman Urges U.S. Supreme Court to Uphold States' Rights to Sue Carbon Dioxide Polluters." New York State Office of the Attorney General. March 14, 2011.
See: A copy of the Attorney General's Brief 10-174. Filed March 2011.
See: New York State Office of the Attorney General: Media Center. "Schneiderman to Feds: Commit to Study Safety Impacts of "Fracking" in Delaware River Basin in 30 days or I'll Sue." 2011-04-18.
See also: Pew Center on Global Climate Change. "Massachusetts et al. v. EPA et al.." Pew Center on Global Climate Change 2 Apr. 2007. Web. 4 Apr. 2011.

Supreme Court Decision in Massachusetts et al vs. Environmental Protection Agency
On April 2, 2007 the Supreme Court released its ruling in the case of the state of Massachusetts vs. the Environmental Protection Agency. Massachusetts and eleven other states, along with several local governments and non-governmental organizations (petitioners), sued the EPA for not regulating the emissions of four greenhouse gases, including carbon dioxide (CO2), from the transportation sector. The petitioners claimed that human-influenced global climate change was causing adverse effects, such as sea-level rise, to the state of Massachusetts. In a 5-4 decision, the court ruled in favor of Massachusetts et al, finding that EPA has the authority to regulate CO2 and other greenhouse gases.
The decision was written by Justice Stevens and was signed by Justices Kennedy, Souter, Bader Ginsburg, and Breyer. Chief Justice Roberts and Justices Alito, Scalia, and Thomas dissented.
See: Coyle, Marcia. "High court could melt climate-change cases." The National Law Journal | Law.com 13 Sept. 2010. Web. 13 Apr. 2011.
See also: LaMonica, Martin. "Supreme Court rules EPA can regulate greenhouse gases". 2007-04-02. CNET News. Web. 11 Apr. 2011.
See also: Broder, John M. "Keep Courts Out of Climate Policy, G.O.P. Lawmakers Say." 2011-02-08. NYT Green. Web. 11 Apr. 2011.