BP chief hails American breakthrough in gas supplies from shale rocks
Publication Type:
Web Article
Source:
guardian.co.uk (2010)
URL:
http://www.guardian.co.uk/business/2010/jan/28/bp-tony-hayward-gas-shale-rocks/print
Keywords:
press
Notes:

BP's Tony Hayward tells World Economic Forum of 'game changer' technique to serve world's energy needs.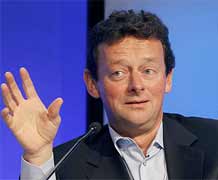 Tony Hayward, chief executive of BP at a session at the World Economic Forum in Davos wher he spoke of gas extraction from shale. Photograph: Arnd Wiegmann/Reuters
Excitement in the industry over "unconventional" gas supplies has led to a wave of investment in America which Tony Hayward, BP's chief executive, believes could eventually spread around the world.
BP inherited a major stake in shale operations when it took over Amoco 12 years ago, but has added to that by spending $1.75bn buying shale interests from rival Chesapeake Energy in the summer of 2008. Last November BP showed its determination to extend the use of the techniques when it signed a production-sharing agreement with the government of Indonesia to exploit new reserves in Kalimantan.
See: BP Deepwater Horizon Committee Hears From Oil Industry Executives
See: National Commission on the BP Deepwater Horizon Oil Spill and Offshore Drilling
See: Before the Big Spill