Anger grows across the world at the real price of 'frontier oil'
Publication Type:
Web Article
Source:
guardian.co.uk (2010)
URL:
http://www.guardian.co.uk/business/2010/jun/20/frontier-oil-exploration-pollution
Keywords:
press
Notes: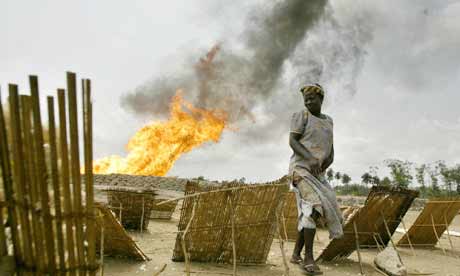 A woman hurries away from the heat of a gas flare near a flow station belonging to Shell in Warri, Nigeria. Photograph: George Osodi/AP

Far from the Gulf of Mexico, campaigners are accusing energy companies of destroying land and livelihoods in the search for increasingly scarce resources.
The eyes of the world are on BP after the disaster that left oil spewing into the Gulf of Mexico at the rate of 50,000 barrels a day. But campaigners accuse Big Oil of an appalling track record elsewhere in the world, saying it leaves a trail of devastation in its wake.
From Nigeria to Kazakhstan in Central Asia, and Colombia and Ecuador in South America, the oil majors stand accused of a blatant disregard for local communities and the environments in which they operate.
With demand for energy expected to surge as industrialisation accelerates in China, India and Brazil, critics say oil companies are taking ever-increasing risks to cash in on yet another bonanza...
...Kate Allen of Amnesty International says: "The result of oil exploration, extraction and spills is that many people in the Niger Delta have to drink, cook with, and wash in polluted water; they have to eat contaminated fish – if they are lucky enough to still be able to find fish – and farm on spoiled land."
She adds: "After oil spills, the air reeks of pollutants. Many [people] have been driven into poverty, and because they can't make Shell accountable for its actions, there is enormous distrust between the group and local people."
See: Nigeria's agony dwarfs the Gulf oil spill. The US and Europe ignore it | Environment | The Observer