Companies
Fracking:
Gas Drilling Companies and Businesses
---
Chevron Human Energy Stories | Addressing Climate Change
, , YouTube, (2009)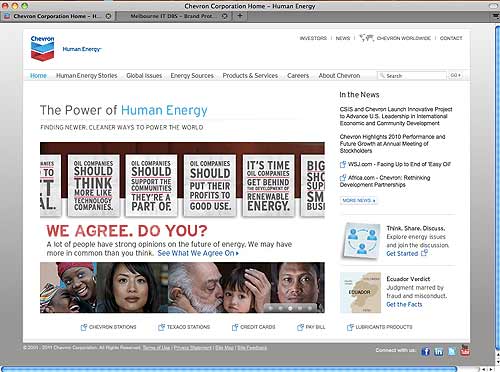 At Chevron, our businesses work in concert to provide the energy that drives human progress. Explore Chevron's companies to learn how we use our global resources, determination and ingenuity to meet today's complex energy challenges.
According to the EPA's National Emission Inventory, Chevron was responsible for 4,030,422.95 pounds of green house gas emission pollution in Plaquemines Parish, Louisiana in 2002.
Chevron was the first international oil company to operate in Nigeria and has, for almost 40 years of operations there, practiced the wasteful process of burning off of gas associated with oil drilling. [1]
Exxon Mobil Corp., ConocoPhillips, Chevron Corp. and Royal Dutch Shell Plc are as ill-prepared as BP Plc to halt and clean up an offshore oil spill because they all use "carbon copy" disaster plans, lawmakers said.
"The oil company response plans are great for public relations but these plans are virtually worthless in the event of a spill," said Representative Bart T. Stupak, a Michigan Democrat. "It could be said that BP is the one bad apple in the bunch, but unfortunately, they appear to have plenty of company." [2]
[1] Friends of the Earth. "The Case of Chevron." Friends of the Earth, 2011. http://action.foe.org/content.jsp?key=3493.
[2] Jim Efstathiou Jr. and Joe Carroll. Jun 15, 2010. "Exxon, Others Slammed for Carbon-Copy Oil-Spill Plans". Bloomberg News.
A Satirical Tale of Two Chevrons
The Power of Chevron (2009)
Chevron is working to reduce greenhouse gas (GHG) emissions while expanding its energy supply portfolio to meet the world's energy needs.
Chevron climate change advisor Arthur Lee is an expert in carbon capture and storage. He has participated in industry workshops and the Intergovernmental Panel on Climate Change's (IPCC) Report on Carbon Dioxide Capture and Storage.
The Power of Chevron's Human Energy (2008)
The Power of Chevron's Human Energy (2008)
Video mashup by Jonathan Mcintosh | rebelliouspixels.com.
This is an identity correction remix that turns Chevron's multi-million dollar Human Energy greenwashing PR blitz on its head.
Though the video targets Chevron Oil and their Orwellian "Human Energy" campaign, it also focuses more broadly on corporate control of global oil supplies and the connection to aggressive American foreign policy.
In this corrected commercial the company's true nature is exposed for what it is, a heartless profit-driven oil machine. The Chevron corporation is not only an ecological catastrophe around the world but still does business with the Burma dictatorship, has oil contracts in war-torn Iraq and is responsible for human rights atrocities in the Niger Delta, among other unpleasant and nasty things.
This Political Remix Video is a critical and transformative work that constitutes a Fair Use in accordance with Title 17 U.S.C. Section 107. Source footage from Chevron TV ads, US Army ad, BBC News, Future Weapons, CSI and several other short clips recorded off television.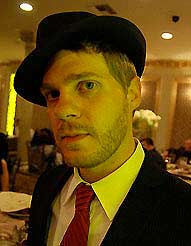 See: About Jonathan McIntosh | Rebellious Pixels - Digital Home of Jonathan McIntosh
Update:
Date: Mon, 06 Jun 2011 21:52:53 -0400
From: neil zusman <zusman@earthlink.net>
To: ChevronBPS <ChevronBPS@melbourneitdbs.com>
Subject: Re: Unauthorized Chevron Logo usage in your site - (http://frack.mixplex.com/content/chevron-corporation-human-energy)
- 1st Notice
On 6/6/11 5:31 PM, ChevronBPS wrote:
> Melbourne IT DBS Inc.
A recent review of your web site
*(http://frack.mixplex.com/content/chevron-corporation-human-energy)* indicated
that you are using one of Chevron's registered trademarks.
Chevron does not allow such use of its trademarks without express
written permission. We are advised that Chevron has no record of
such permission being granted.
If permission was granted from Chevron, please forward a copy of the
permission letter to Chevronbps@melbourneitdbs.com for their files.
If you did not receive permission from Chevron to post the logo on
your web site above, please remove the logo from your web site and
from all other locations where it is being used.
Thank you for your interest in my website. The piece needed editing.
As Chevron has requested, I removed the logo you are inquiring about and
replaced it with a screen shot of Chevron's website to ensure my
readers the clarity of context. The analysis of media and corporate
responsibility by energy sector companies are important to me. If you
wish to consider this matter further, I look forward to discussing your
concerns about Chevron's trademark rights in my representation of
Chevron as well as my Fair Use rights under Title 17 U.S.C. Section 107.
I welcome a productive and healthy relationship with Chevron and its
subsidiaries in the consideration of environmental issues and prudent
government regulation and trust that our covenant with the Earth will be
of mutual benefit.
Sincerely,
Neil Zusman
Fracking Resource Guide
See: News Updates on Chevron. 2011-06-06.

See: The Case of Chevron
See: BP Deepwater Horizon Committee Hears From Oil Industry Executives. 9-26-2010.
See: Poison Fire
See: Rancho Los Malulos | A satirical view from the McGill Brothers Lease
See: Natural gas: the commodity world's ugly duckling
See: Controversial gas 'fracking' extraction headed to Europe
See: As You Sow - Corporate Accountability, Shareholder Action, and ToxicsReduction
See: The Yes Men | Climate Pledge of Resistance
See: Heather Clancy. "Shareholder flack flies over fracking". SmartPlanet. June 3, 2011.
Chief Oil & Gas
, , Chief Oil & Gas, (2010)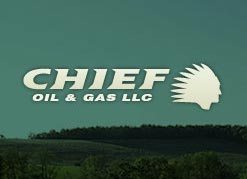 ...Open and honest communication, a safe working environment, ethical business practices and good neighbor initiatives are all an important part of how we do business each and every day.
Chief's gas well in Moundsville, West Virginia exploded June 7, 2010.  Read the report from Pittsburgh Tribune Review.
Chief's most recent focus has been the development of the Marcellus Shale, a formation that runs from the southern tier of New York, through the western portion of Pennsylvania into the eastern half of Ohio and through Maryland and West Virginia. Chief currently holds more than 580,000 acres in Appalachia.
Conoco Phillips Remediation
, , Conoco Phillips, (2010)

See: New York Times. Conoco, BP, Caterpillar Leave Climate Coalition. Feb. 16, 2010.
ConocoPhillips, Caterpillar Inc. and BP America have left the U.S. Climate Action Partnership, a coalition of more than two-dozen companies and environmental groups lobbying Congress to pass greenhouse gas emissions cap-and-trade legislation.
From Conoco Phillips Web Page: Remediation
We give serious attention to our duty to restore properties impacted by our operations. Our responsibility for remediation can arise from prior contamination on properties we subsequently acquired, contamination of properties we currently own, or contamination of previously owned properties for which we retained individual or joint responsibility for cleanup.
We completed remediation on more than 300 sites in 2008, and currently are restoring more than 3,600 properties in various locations around the world.
CONSOL Energy
, , CONSOL Energy, (2010)
CNX Gas - (a CONSOL Energy subsidary), is the largest producer of natural gas in the Appalachian Basin.
A world record was set by CNX Gas for drilling the most cumulative feet with a single drill bit.
CONSOL Energy purchased the naming rights to the new arena for the Pittsburgh (Pa.) Penguins. CONSOL Energy Center is expected to open its doors in 2010.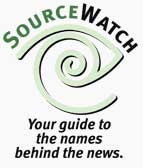 On March 15, 2010, CONSOL announced the purchase of Dominion's Exploration and Production business for $3.475 billion.
According to CONSOL, Dominion Exploration and Production is known as "one of the oldest and most active drillers in Pennsylvania and West Virginia".
The transaction includes 1.46 million acres for oil and gas drilling with over 9,000 already-producing wells.
Sourcewatch notes that this transaction includes 491,000 acres of land in the Marcellus shale formation of Pennsylvania and West Virginia, and almost triples the amount of land rights CONSOL owns in the Marcellus area.
According to CONSOL's press release, this purchase will make the company the largest producer of natural gas in the Appalachian basin and give CONSOL "a leading position" in the Marcellus area.
Note: The following articles are summaries only:
See: Consol To Pay $1.4M To End Coal Mining Pollution Suit
See: Va. Landowners Sue Consol Over Coalbed Methane
See: Global Warming Case Tossed Over Lack Of Quorum
Covalent Energy
, , Developing domestic and international unconventional energy resources, (2010)
Covalent has been drilling near Cooperstown, NY.  In 2008, it tried to purchase water from the Village of Cooperstown for their deep shale drilling.  Jim Austin of The Cooperstown Crier (July 24, 2008) reports that the village board has voted not to move forward with the proposal, and Covalent plans to look to Cortland.
"Personally," said Trustee Lynne Mebust, "I don't see an upside for the village." …
Prior to taking the vote, the board listened to comments from the public, which were largely against the sale of water.
Covalent Energy is a privately held exploration and development company focused on developing domestic and international unconventional energy resources.
Dominion
, , Dominion, (2010)
In 2004, the Political Economy Research Institute ranked Dominion Resources 27th among corporations emitting airborne pollutants in the United States, the second highest rating behind Duke Energy.
Dominion has a web page citing its ecosystem conservation efforts and contributions.  It earned $15 billion in 2009.  Its main ecosystem project received funding of $500,000 in 2009.
Dominion operates the nation's largest natural gas storage facility with 975 billion cubic feet of storage capacity and serves retail energy customers in 12 states.
For this company's information resources on non-conventional production from coal bed methane and Marcellus shale gas, see the web page, Appalachian Gateway Project.
Includes Landowner's Rights, Source of Supplies, Project Schedule, Environmental Considerations.
East Resources
, , East Resources, (2010)
Shell | Appalachia
The acquisition of East Resources, a Pennsylvania-based oil and gas company, on July 29, 2010, is the foundation for Shell's new operations and growth in the Appalachian Basin. Shell's current Marcellus Shale operations are focused in Tioga County.
On May 28, 2010, Bloomberg.com reported that Royal Dutch Shell Plc agreed to buy closely held East Resources Inc., for about $5 billion.
East Resources will no longer be a U.S. corporation.
This will be the second-biggest oil and gas deal this year, after BP Plc's cash acquisition of deepwater assets from Devon Energy Corp. for $7 billion on March 11, according to Bloomberg data.
Private-equity firm Kohlberg Kravis Roberts & Co. invested $350 million in East Resources 11 months ago, according to the Journal.
Exxon Mobil Corp., the biggest U.S. oil company, agreed in December to buy XTO Energy Inc., the country's largest natural gas producer, for $31 billion to gain control of shale-gas assets. Companies from India's Reliance Industries Ltd. to Japan's Mitsui & Co. are spending billions of dollars on drilling to dislodge natural gas from shale -- sedimentary rock composed of mud, quartz and calcite.
East Resources, Inc. is an independent exploration and development company with more than 1.25 million acres of land holdings. East Resources owns and operates more than 2,500 producing oil and gas wells in New York, Pennsylvania, West Virginia, and Colorado and is actively exploring drilling programs in Wyoming.
On July 2, 2010, ProPublica reported wastewater from a nearby East Resources gas well leaked into a field and came in contact with farm animals resulting in a state-ordered quarantine of 16 cows.
See: A Fracking First in Pennsylvania: Cattle Quarantine
"Tests performed for East Resources Inc., found hazardous chemicals and heavy metals, including chloride, barium and strontium. East did not dispute that a leak had occurred."
Reuters reported that a survey by Pennsylvania Land Trust Association, based on data from state regulators found that East Resources committed the most violations, 138, followed by Chesapeake Appalachia LLC with 118, and the privately held Chief Oil & Gas Corp. with 109.
ecorp USA
, , ecorp Usa, (2010)

eCORP is a Houston, Texas, based multifaceted energy company which, through its subsidiaries, affiliates and related entities, is engaged in the development and operation of natural gas storage facilities, natural gas pipelines, electric power plants, and other energy related facilities.
eCORP and its principals and affiliates have been involved in Stagecoach Natural Gas Storage Facility, Tioga County New York.
The U.S. Department of Energy, Energy Information Administration reported in 2007 that the largest expansion of working gas capacity (13 Bcf) occurred at the Stagecoach natural gas storage site in New York State, a depleted-reservoir facility.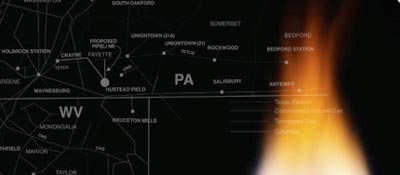 Encana
, , Encana, (2010)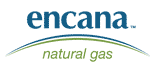 Among the largest natural gas companies in North America, based in Calgary, Alberta.
The Michigan Land Use Institute reported that In 2006 the Colorado Oil and Gas Conservation Commission fined Encana $370,000 for flawed drilling practices. Residents said the drilling contaminated Divide Creek with methane and benzene.
Alan Boras, Encana's spokesman, said in an interview that the leak was "a rare circumstance" caused by flaws in the cement that holds the well casing in place.
"Within less than a week of being alerted, the problem was rectified," Mr. Boras said.
Lisa Bracken, on Journey of the Forsaken, reported on June 30, 2010 that,
"EnCana has recently submitted twenty well permits (with at least twenty more on the horizon) to infill drill in our neighborhood... despite 1) low natural gas prices, despite 2) EnCana suing the state of Colorado over new public safety rules (which are by the way utterly toothless) and which they say are driving them from Colorado; and, 3) despite the persistent, increasing and largely un-investigated presence of leaking hydrocarbon toxins into groundwater and private water wells.
Why the renewed surge in activity? Could be because China is dumping investment dollars into EnCana's bank account to facilitate extraction of gas for export to China?"
See: Natural gas: the commodity world's 'ugly duckling'.
See Lisa Bracken video.
See: Lisa Bracken Website: Journey of the Forsaken.
See: Will Koop. Encana's Cabin Not So Homey: Cumulative Environmental Effects - An Unfolding and Emerging Crisis in Northeastern British Columbis'a Shale Gas Plays. (PDF 13. 4 MB, 58 pp.). November 9, 2010.
An Introductory Journey Into BC's Dirty Domino Zone - Commentary and Recent Photos by Garth Lenz.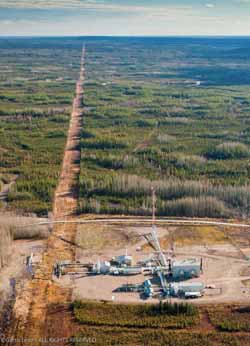 See: Letter written to Vancouver Sun by Fort Nelson First Nation Chief, Kathie Dickie. Dec. 22, 2009. (Koop, p. 21)
Calgary-based EnCana Corporation, Canada's largest gas producer, along with a consortium of seven other oil companies, is planning to build the biggest gas processing plant in North America in the heart of our 1910 treaty territory.
We've been told many things by the B. C government as we've tried to participate in the environmental assessment process. One official said that because our 100-year-old treaty doesn't specifically address clean air, we have no say on clean air when it comes to the construction of the biggest greenhouse gas creator in B.C. Imagine being told by a government official in 2009 that you have no say on the quality of air you or your children breathe! What parent would stand for it?
We understand the value to the province of shale gas development in the Horn River Basin. But such economic development, whether for our community or yours, should not come at the expense of a gutting of the land, water, and air where a community lives.
We are the only Treaty 8 Nation that lives within the Horn River Basin, and this gas plant, designed to open the basin to drilling, pipelines and gas development, will have an immense effect on our rights and interests. Without the capacity to determine and plan for this development, the survival of the Fort Nelson First Nation is in jeopardy. This plant and the development that it brings must not mean the end of us.
Source: Fort Nelson First Nation Chief, Kathie Dickie, Vancouver Sun, December 22, 2009, Premier's climate-change hypocrisy could doom first nation's way of life.
See: Julie Green. "The Game Changer." UpHere Business. June 2010.
...In mid-April, Dickie signed an agreement with Spectra. "It's more than an impact-benefit agreement," says Spectra's Duane Rae. "It formalizes the relationship we already have and talks about how we're going to continue working together." The band is working on similar agreements with TransCanada and EnCana. Dickie has a list of substantial fears about shale development and water is at the top.